After reviewing this bookie, our specialists have determined that it does not meet our ranking criteria.
Please review below some of our recommended choices
BEST ESPORTS BETTING WEBSITES FOR 2023
There are two types of online bookies. The first one is a classic market-oriented venue that features some E-Sports; the second one is exactly the opposite. At first glance, Betspawn E-Sports seems like a "bookie made for the fans", but that doesn't mean that regular punters won't find the action they are looking for.
In truth, while Betspawn does look like its interface is designed to accommodate some heavy E-Sports betting, it still offers the most popular of sports in the industry.
Betspawn & eSports Betting
Betspawn Details
Min. Deposit: $10
Odds: 88%
Licenses: Curacao
Live betting
24/7 support
Live chat
Mobile app
Rating
eSports Betting

Bonus Conditions

Game Variety

User Interface

Odds Margins

Help & Support
Overall Rating:
E-Sports Games
Payment Methods
License Details
The brand Betspawn eSports is owned by the company of the same name – Betspawn AB, and it possesses a license granted by the Government of Curacao. The Betspawn website features complete credentials of its Master eGaming License, so if you would like to perform more detailed research, you can do that – but that's not all. We have it on competent authority that Betspawn currently explores additional licensing options within Sweden as well.
The Registration Process
Registering at the Betspawn eSports betting platform is pretty straightforward and easy. There aren't any multiple steps – just click on the "sign up" tab located in the upper right corner of the screen, and a window will appear.
After inputting your preferred nickname, password, email address and birthdate information, another window will appear on the bottom for your address details. From here on, you will also be able to choose your preferred currency – watch out which one you choose, because you won't be able to change it later!
An Extensive eSports Market List
As stated earlier, the market roster of Betspawn eSports is majorly populated with video games. The current titles with live and/or upcoming markets, are Counter-Strike: GO, Dota 2, League of Legends, Hearthstone, StarCraft 1 and 2, Heroes of the Storm, Rocket League, King of Glory, and Mortal Kombat.
Those that don't currently have any provided odds, are Overwatch, Smite, World of Warcraft, World of Tanks, Vainglory, Heroes of Newerth, Halo, Quake, Call of Duty, Street Fighter V, FIFA, Crossfire, PUBG, Warcraft III, Gears of War, and Fortnite.
The Games with Most Markets and Championships
It isn't surprising that some of the games are more popular than others and will feature greater coverage concerning both events and delivered odds. It is a good idea to follow on the most popular markets, as bigger competitions offer a lot more opportunities.
Below, we have presented the most played games on the Electronic Sports Leagues scene, as well as the official championship events they are being held at.
Dota 2 – An Eternal Classic
When Dota 2 was released in 2013, it almost immediately set the first modern standards of the MOBA game genre. The depth and competitive nature of Dota 2 immediately set up the stage for worldwide competitions, as well as a variety of odds and markets offered by eSports bookies, like Royal Panda or Betway, everywhere. Having more than 1 million active players at the peak of its existence, Dota 2 isn't as active as it used to be but that doesn't mean that it's events and championships are losing steam; in fact, this game holds the largest prize pool in eSports history – more than $24 million.
The largest official event for Dota 2 which is covered by Betspawn eSports betting, is The International – which currently isn't available. The current markets reflected under the Dota 2 market section, are ESL One, Reshuffle Madness, WESG, PVP Esports Championship, DreamLeague, and the Kuala Lumpur Major Outright. Almost all minor, major and premiere event leagues feature Dota 2 as a competition title – and it is why this game regularly has betting markets within Betspawn.
The League of Legends and Betting Markets
Considered today to be the most played game in the world, the League of Legends (also referred to as LoL) has 67 million players worldwide. With a player base larger than the population of the entire United Kingdom, the competition here as with the other eSports is beyond tight – which would, of course, prove why there are so many markets provided here at Betspawn eSports.
The World Championship is the largest, most important event organized by LoL's creators – Riot Games. Currently, the League of Legends markets offered under the eSports roster of Betspawn are World Championship, The World Championship Play-In, and of course the European Masters Summit. Although the prize pool for the biggest LoL event isn't as large as with other MOBA's, the market possibilities for punters is still nonetheless impressive.
The Event Phenomenon of Counter Strike: Global Offensive
The number of sales for CS: GO worldwide reaches around 50 million. To put it into perspective, this is more than the population of Spain! Given its remarkable popularity status, it doesn't come as a surprise why it is the first on the list of eSports markets in Betspawn. This game title sees almost half a million participants online every single day, and its presence in the eSports industry is something that will continue to remain for the years to come.
Betspawn eSports Live Streaming is Active
In front of every upcoming and live market, there is a "start stream" function which immediately opens up the eSports competition that is currently played. The live footage is provided by the famous streaming brand Twitch, and the quality of the footage is unparalleled. An interesting stream feature provided by Betspawn eSports is the multi-window. You can have up to 5 separate active streams, watching all your chosen events at once! Bear in mind that you will need to mute the sound of the windows – you probably wouldn't want to listen to several live event commentaries at the same time.
If you do wish to stream several events, your Internet connection needs to be particularly strong. Each of the "popup media player" windows is set by default to "auto quality" streaming, which that if your internet is slow, the footage might appear grainy and pixelated. A great feature in Betspawn eSports is that you can access the streaming windows without even needing to have an account on the website – if you just want to watch a live competition, you can.
Available Odds
While other sportsbooks usually offer only win/lose odds, here the betting variety is much more significant. In addition to the classic match/game winner betting possibilities, you can place your bets on odds such as even/odd kills, pistol rounds winner (in CS: GO), rounds handicap, over/under, and many others. Depending on the game title and event, the released odds and markets can be unique – so make sure you check the odds sections regularly.
Bonuses & Offers
The Lucrative Betspawn eSports Bonus
On signing up, you will have the chance to claim a Trible Welcome Bonus. What this is, is a per cent match up to your first three deposits. The first one gives you a 100%, the second – 50%, and the third – 25%. The maximum deposit a player can make for each bonus is €133,7. As you would have guessed, there are wagering requirements which are x12 of the bonus amount from the first deposit. The second and third bonus amounts are subjected to a x14 wagering requirements. Withdrawals cannot be initiated until the player has bonus money present in their accounts; they will either need to fulfil their requirements or cancel their ongoing bonus.
Only customers from particular countries are allowed to benefit from the deposit bonus programs. Those are punters from Sweden, Finland, and Brazil. The minimum sum of money you need to deposit to qualify for the bonus is €10 (or its equivalent in other supported currencies). Bonus funds have an expiration period of 120 days, so if you're looking forward to opting in, bear in mind of the time limits. It is highly advisable that you go through the entire terms and conditions, as to know what you're getting into when you opt-in.
Your Raffle Level Up Promotional Program
This type of program is something that we haven't encountered in other eSportsbooks. It resembles something that you would encounter in an actual computer game; a profile levelling scheme, which raises your level with the performance of certain activities. Making deposits, betting, or starting a stream will grant you "experience points" – should you have enough, you will climb the level ladder.
Reaching a specific level will grant you different amounts of free bets. When reaching level 3, you can benefit from a raffle free bet of €50, and so on. Just below the profile level indicator, there will be a countdown – every level you gain before the time runs out will grant you a "ticket" that gives you a chance to participate for raffle free bets and prizes. Should you be one of the lucky ones, you might win gaming gear, Steam money vouchers, and more.
The Betspawn eSports Bet Slip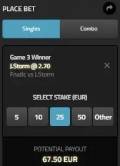 Located in a rather classic position, the ever-known bet slip is neatly combined with two additional tabs – my bets, and Avatar. When you choose a market to bet on, it will appear on the far-right side of your current page, with two buttons on top, designated as Singles and Combo. Just as any other bet slip, after you place your wager a potential pay-out number will appear at the bottom of the slip.
While in some other cases you will have a field where you can type your desired amount of money you want to bet, here there are a few "convenience buttons" with sums of 5,10, 20, 50, and "other". Should you click on "other", an input field will appear, giving you the chance to type in the specific sum you would like to bet.
The Betspawn eSports App Experience
With the rise of mobile gaming worldwide, the portable device today has become much more than a simple phone. Because accessibility is so crucial to punters everywhere, Betspawn eSports has released their native applications for iOS and Android device users. Naturally, if you don't wish to download any software on your device, you can access the website via any browser – the platform is appropriately optimized for use with any smartphones and tablets.
Available Banking Options
Betspawn Payment Options in Detail
Accepts Credit/Debit Cards:
Accepts Popular eWallets:
Min. Deposit:

$10

$10
Payment Methods:

Visa, MasterCard, Skrill, NETELLER

Visa, MasterCard, Skrill, NETELLER
Betspawn eSports betting supports a wide variety of deposit and withdrawal methods, including cryptocurrency, like Bitcoin ! Users can perform deposits via Visa, MasterCard, Bank Payment, SkinPay, Skrill, Neteller, Bitcoin, PaysafeCard, ecoPayz, and AstroPay Card. For withdrawal, you can use those same methods; however, bear in mind that there might be some fees.
In addition to that, some transfers will be performed faster than others – you can always contact a customer support agent to find out more information on your chosen method.
Some Jurisdictions Will be Restricted
Referred to as "excluded territories" some countries aren't allowed to register or participate within the Betspawn eSports betting platform. This may be due to government restrictions or the lack of proper licensing – whatever the case might be, the following countries will not be able to benefit from Betspawn's services: Afghanistan, Antigua and Barbuda, Australia, Belgium, Bulgaria, Cayman Islands, China, Cuba, Cyprus, Czech Republic, Denmark, Estonia, France, France and its territories, French Guiana, French Polynesia, Germany, Hong Kong, Hungary, Iran, Iraq, Ireland, Israel, Italy, Japan, Latvia, Libya, Macau, and a few others. You can review the full list in the terms and conditions section of Betspawn's website.
Customer Support Options
You can reach customer support agents via a few methods. Writing an email is one of them, but that's not all. As a highly social-oriented bookie, Betspawn eSports also has a Facebook channel which they keep open for client inquiries.
If you're not a fan of social media, you can always open the live chat function. Once you log into your account and post a message, in a few minutes a live chat window will pop up with a customer service agent standing by for your requests.
Conclusion
Exciting interface design, good odds, plentiful markets, and many other interesting benefits keep Betspawn eSports betting ahead of many other sportsbooks in the industry. Betting on the "gamer angle", this bookie gives electronic sports punters an outstanding variety of opportunities. If you do fancy yourself a bit of a gamer, make a free registration and look around!
NOT SURE WHICH ESPORTS BETTING SITE IS RIGHT FOR YOU?