CS:GO eSports betting is the latest installment in what we can rightfully call an industry. In the following lines, we will strive to provide a clearer picture of the landscape of the game today. With this said, we invite you to learn more about the nature of CS:GO eSports tpes of betting, schedule and tournaments.
Counter Strike: Global Offensive (cs:go) - Latest eSports Stats
Game Details
Genre: First Person Shooter (FPS) Format: 5v5 Publisher: Valve Corporation Release Date: 2012
Prize Money Awarded: $105,679,063 From 3,979 Tournaments
Largest Prize Pool
Tournament Name: WESG 2017 (CS:GO Male) Prize Money: $1,500,000.00
Top Country
Country Name: Denmark Prize Money: $13,879,170.09
CS:GO eSports betting is the latest installment in what we can rightfully call an industry. In the following lines, we will strive to provide a clearer picture of the landscape of the game today. With this said, we invite you to learn more about the nature of CS:GO eSports tpes of betting, schedule and tournaments.
A quick glance at our article:
The shooting star of CS:GO tournaments

Mainstream events and largest prize pools
Types of bets and betting strategy
Lights snuffed out on CS:GO bet skinning

A quick flick through the skin betting market in the days of yore
Briefing on litigious entanglements that took it out of the game
The road ahead is quite eventful, so lock and load, boys, we are storming the front door.
A Flurry of eSports – CS:GO  Betting Explained
There is a certain degree of versatility when we are talking about bookies. We've reviewed and ranked the leaders in the field, as well as newcomers among the better-known names out there. They stand out not only in terms of secure money transactions, exceptionally well-organized website structure and efficient mobile apps, but also in how they manage their communities. Any one of those little betting havens is a great hunting ground to begin your eSports betting career. Probe the virgin land, we say!
Now, as to the types of eSports they have been to an extent covered in other reads we have posted, but we will cover them again here, in full. If it all sounds a tad familiar, skip straight to the part where we talk about skin betting.
Types of Bets for eSports CS:GO 
Betting on the outcome of matches is not an entirely novel idea, but it is one that will last for as long as there is eSports betting.
In these types of bets, you simply try to call the winner of the match ahead of time.
Next is of course tournament betting. Those bets are, in essence, designed to make the game, from bettors' standpoint at least, more exciting. As to bookies – they have long found out that trying to complicate the odds has translated into profits for them. Still, bookies may need to do slightly better, provided that 90% of all eSports offerings are usually won by punters.
Live betting is the lovechild of both a growing appetite for watching events live and the hike of brands that want to get the word out there.
Two things ensue from this. First, eSports bookies have had to adapt their offerings and websites to the growing demand from customers to watch their favorite games online.
Bookies introduced mobile versions of their websites so that a whole generation on the go may be connected with what-is-what in the world of CS:GO  and not only. Second, advertisers started to pile on eSports streamers and televisions have been mulling to open 24/7 channels dedicated to gaming. 
There is also the so-called Special Odds betting which basically boils down to bookies coming up with intricate odds, as in who will win the most rounds, win a certain number of rounds and so forth, in the hopes of adding profits, and at least outwardly, whip up interest for the game. Which, frankly, this kind of betting does.
Where To Bet On cs:go
---
CS:GO  Skin Betting or Are You Not a Bit of Extreme?
Skins, those not-so-cheap frills that add nothing to the game and appear to be just shabby paraphernalia, which nonetheless can condone, on the bearer, a distinct sense of accomplishment and recognition.
It could easily be baffling how in-game cosmetics could beat the market nth fold in terms of real value, but they do. Well, at least they used to. Ludicrous as it may seem, the eSports market for skin gambling was somewhat exorbitant back in the day.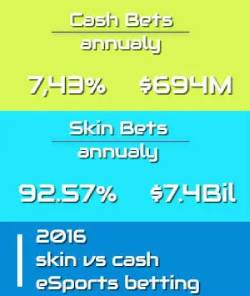 Now, this is something! eSports wagers at $694 million and the value of those darn jabot pegged at $7.4 billion? No way! And then again, yes way. Until Valve put the crack on skin gambling and it is today completely outlawed.
However, the market would have allowed for a Renaissance in gambling on CS:GO  as a whole. Everyone who plays CS:GO  is familiar with skins, one way or another. Meanwhile, not everyone is watching eSports. This could have feasibly translated into a lot of under-the-counter betting.
Nevertheless, no such thoughts could be pondered today. The erstwhile proponent and today's repentant acolyte of skin gambling, CSGOLounge has together with its offshoots funded an ambitious scheme under which it compensated a number of users for their locked items. Yet another sign that CSGOLounge was, if anything, one of the good guys. 
However, a series of class-action suites in which parents claimed their kids had lost hundreds of dollars' worth of skins did prompted Valve to act. 
With this in mind, we ought to issue our fair warning against bookies who offer to take your skins in return for hard currency. It is completely illegal and there is an added risk when disclosing information about yourselves to third-parties which are clearly operating well outside the law and are apt at eluding the law. 
Punters, heed our call and know better!
Place Your Bets on CS:GO
May the odds be ever in your favor and choose wisely
CS:GO eSports Schedule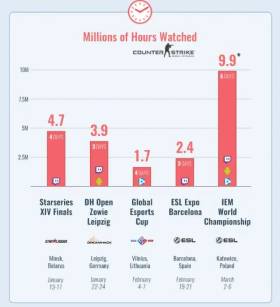 The fact that there is so much betting going on about eSports CS:GO can be easily cosigned to the staying power of the franchise. Fret not, punters, we will not give you a crash course of the history of the game, albeit it could be useful. Nevertheless, the Counter-Strike franchise has been around for a fair lick.
It has built momentum that started as a transient snowflake atop some remote mountain top and gradually snowballed into an avalanche sweeping everything in its wake. Today the viewership around the game rivals mainstream media. Interest CS:GO eSports events generate easily puts to shame some mainstream competitions. 
Naturally, this is not the only statistics out there. No surprises there. The fact of the matter is that nearly $485 million of all eSports investment in 2017 was for branding, and some people just love to get their name out there.
This is a most propitious moment for you, CS:GO bettors, and we will guide you through the rocky terrain. Looking at the big picture, there is a slew of tournaments past, future and ongoing that you can happily flick money at, and expect a solid return. We welcome you to try and bring home not only the bacon, but the whole damn grocery store if you must.
Down the road, we have the Major E League. Welcome graduates.
A tournament with handsome pots of winnings to the tune of $1,000,000.
Looking at the past events in 2020 helps us draw a clear picture of eSports CS:GO . The plain truth is there is a lot of opportunities for you to lay your bets. So much that CS:GO is indeed a great entry-title for the newly-fangled bettors. Why you would ask? Simply because, even to the uninitiated, the game can be particularly riveting and easily inveigling you to spend hours on end watching the virtual avatars of people demonstrate incredible prowess that smacks of that of highly-trained combatants.

The E League has created loads of CS:GO eSports and naturally for betting on the game.
The prize pool is particularly significant, amounting to $1,000,000 and that is just one neat little heap of money to hanker after.

ESL ONE is one of the staple tournaments out there. With its persistent support for new titles, the ESL is without a fail featured when bookies hammer out their latest round of odds. The prize pool was $100,000 and the winnings went to FaZe.
Currently, there are several other tournaments going at full blast, those are:

ESL Pro League
Esports Championship Series
Epicenter
All of which sport juicy rewards. With this in mind, let us move to finding out more about viable websites where we can flog our money at CS:GO betting and learn a bit more as to what types of punts there are out there.
---
How to Be Better at eSports CS:GO Betting?
When vying for an edge in a video game you would want to practise, practise and then again practise. And when it comes to eSports betting, you want to stay abreast with the latest developments in the competitive scene. Luckily, for us, there are countless ways to do just that!
It is no coincidence that CS:GO is one of the most watched-titles on Twitch.tv. More, streamers of the top teams out there have created veritable Meccas out of their channels where hundreds of viewers set out on pilgrimages, day in and day out.
With this in mind, watching streams and familiarizing yourselves with the personality of players will give you an insight into eSports betting that bookies, for the moment, lack as they tend to stick to the more technical side of matters.
Then again looking into the mechanics of the game and informing yourselves about new patches could also prove an overall boon to you. Knowing when one's player's favorite weapon has been twacked or nerfed is, in its own right, a winning strategy.
Lastly, we hold that just by generally enjoying the game, you will be well ahead of the eSports bookies pack as you will be more prone to stumble upon incidental bits of info which, in the grand scheme of things, will reinforce your betting knowledge.
---
Curtain Drops but Show Goes on for CS:GO Punters
There has been a great hubbub around skin betting and while the future of this type of betting seems consigned to history, we are sure that CS:GO eSports betting will continue at full tilt. Hardly at any time in its history, has eSports betting been so popular. Things are only slated to improve in the coming history. A relatively new niche, eSports bookies are struggling with the odds. Woe is them for we, the savvy punters, know better and easily best those respectable gents at their own game.
---
MORE FAVORITE ESPORTS GAMES THAT YOU CAN BET ON