Call of Duty is a popular mocked-up version of hot zones around the world today, and oftentimes in the past. The First-Person Shooter (FPS) has had many reincarnations throughout the years, with developers quick to breathe life back into an old, or should we say age-old, franchise, which has come back with reinvigorated stamina, time and time again.
Electronic sports has been going at full throttle picking not only steam along the way, but also adding a variety of competitive titles as it did. The Call of Duty (CoD) franchise has naturally fallen in the cross hairs of major eSports events.
With the latest back-to-basics version of the game, Call of Duty reaffirms its staying power both in eSports and in eSports betting, a phenomenon that has, on its own, made its presence felt across the world over.
Call of Duty (CoD) - Latest eSports Stats
Game Details
Genre: First Person Shooter (FPS) Format: Battle Royale Publisher: Activision Blizzard Release Date: 2003
Prize Money Awarded: $10,711,063 From 56 Tournaments
Largest Prize Pool
Tournament Name: Call of Duty World League Championship 2019 Prize Money: $2,000,000.00
Top Country
Country Name: USA Prize Money: $1,300,764.38
eSports Call of Duty – the Top Betting Websites to Place Wagers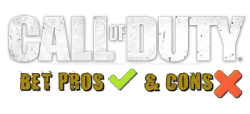 Betting on eSports Call of Duty, regardless of the current version of the game, will always boil down to a judgment call. In the past, we have discussed the matter of eSports betting at length. Many of our advice there could be transferred to any of the games featured on our website.
Nevertheless, we will try to furnish that little extra which will give esports betting sites the willies faced with the dab bettors you have become.
Let's break down eSports betting on the Call of Duty franchise and acknowledge both its advantages and drawbacks:
Pros

Being fairly uncharted territories, eSports betting on CoD tasks bookies with some not-so-easy to solve conundrums. Crunching odds is a demanding undertaking that unlike eSports counterparts, main sports, seldom yields the desired results.
Oftentimes, the punter may gain advantage by way of following the latest developments on social media. Most professional players have their own Twitch accounts, analysis of their gameplay is available and anything, from homebrewn media outlets to TV networks are allocating time to reporting on the lives and evolution of professional teams and salaried players.
Cons

The world of online betting can be easily overwhelming to the unitiated. Bookies will rely mostly on the influx of information which puts bettor in a state of agitation where every second squandered seems to be an opportunity lost. In fact, that is a mere illusion and acting on impulse is often the downfall of your capital. Instead, focus on getting the basics straight.
Lack of regulations may in the future spawn the ignomous practice of fixing matches which will result in undermining the trust in eSports as a whole, let alone eSports betting. After a similar scheme was unearthed in Counter-Strike: Global Offensive (CS:GO), some key proponents of eSports have moved to clamp down on such practices and establish a common framework so that fixing the game may be averted.
Where To Bet On CoD
---
Call of Duty Betting Done Like a Pro – Breakdown of Bets & Options
Going over the available bets for CoD, we will run into not a not-too-modest selections of bets. There are your outright winners, special odds, match winners, first round winner, and handicap bets. Add the more technical types of betting, such as over/under corner markets and punters are easily faced with a dilemma of gargantuan proportions.
One of the more pronounced trends in CoD betting could be odds juggling. We describe odds juggling as the phenomenon whereby punters opt for multiple bookmakers and thus reduce the bookies' advantage. Not only can you single out and cherry pick the most tempting odds, but are you also allowed to add some additional oomph. Esports betting, just as regular betting, is about adding an extra dimension to watching a game. So you, punters, can rev up your betting game by exploring odds at various renowned bookies.
Types of Bets for CoD eSports
Match bets
Match betting is the most common type there is. As the name suggest, punters take their chances on predicting how a Call of Duty match-up will turn out and place currency respectively. The general advice here applies – know your team and know if anything may have contributed to poorer performance, starting with whether your team have just arrived from another time zone or have been binge gaming at legnth.
Drawing parallels with another game, Na'Vi's victory during the first Defense of the Ancients (DotA) first International necessitated that the team play two BO5 matches, including the final, without a breather. Indeed, this may be used as an example when teams can pull their weight and overcome physical exhaustion, but it may be a bad idea to pin your hopes on superhuman efforts. They tend to be misleading.
Tournament bets
Casting a bet for tournament winner is not an easy bet to come up with, especially if you intend to wager serious amounts. The odds also tend to change throughout the tounament as do the fortunes of teams. Placing such wagers cuts both ways. The earlier you wager, the higher your yield would be, but also the greater the chances of bookies to turn a profit on a miscall on your part.
In Call of Duty betting, for example, casting your vote in favour of a team for reasons other than your devotion to said team may be a bad stratagem in the grand scheme of things. Instead, try to recognize if any trends are shaping up ad if a team that has been cast as the unloved child is actually gaining a rather unnerving momentum. All of these telltale signs might actually help you to beat the bookies.
Special bets
Special odds mostly have to do with a set of circumstances that is pretty much up to the bookie's whimsy. They can vary from first blood wagers to map winner bets. Predicting which team will perform better given a particular in-game stats is also important. For instance, you may have wagered that a team would score the most kills even though it would still lose, and vice versa. The opportunities are boundless.
The Best Call of Duty Betting Sites Offer Live Betting
Browse the reviews to find out which bookies offer live betting option
Live betting is gaining traction. TV networks are making a genuine push to sign up eSports events as viewership for the segment is exploding. So much has its clout grown, that eSports broadcasts now rival mainstream media in terms of advertisement revenues.
Bookies, for their part, rely on eSports betting because CoD punters are an increasingly active lot constantly on the go. In other words, restricting the average CoD bettor and trying to pin him or her down in front of a TV screen. To this end, bookies are allowing CoD enthusiasts to fork out currency on wagers from any point in the world aslong as they have an internet connection and registration on the website.
Live betting on Call of Duty, though may require you to follow a tournament through, from the getgo to the grand final. We would generally advise to place wagers on live events only as long as you are willing to commit time to this. Overall, odds juggling is not a bad idea in its own right and it can be extended to live betting as well.
It is however at this point that switching between odds can become an art, if mastered. Being able to follow all developments across various matches and having the background knowledge to make the right choices is uqite the breathtaking skill.
Before we conclude our section about types of bets and betting tips, we will impart our long-cherrished advice that is the nitty-gritty of any betting – learn as much as you can about your game. Try to stay away from betting on multiple titles unless you are sure that you can make the right calls under pressure while being fed overwhelming amounts of information.
---
CoD eSports Schedule – Tournaments Overview
CoD enjoys positive reception as an eSports title, concomitantly garnering popularity as a betting market. Mounting interest in the game has translated into larger numbers of devotees following tournaments online. Developers and grassroots of eSports organizations have also made a splash by shelling out handsome amounts on events that have been steadily drawing out crowds to sold-out arenas, which have overshadowed mainstream sports events.
Amid the general excitement of eSports, CoD betting has started to take shape.
There are, of course, a few caveats:
CoD staying power as a franchise is undisputed, but its iterations seem to lose their popularity after a year or so. To this end, developer studios have assumed a slew of ploys to zap their game back into life.
Call of Duty has branched out to other consoles and by adroitly juggling between scenarios, the franchise has managed to stay relatively fresh, causing excitement with new reiterations and generating whopping sales.
However, it is oftentimes that the old game's popularity would peter out rather sooner than expected (or should we say on cue) and that has caused a frantic pursuit of new instalments.
A close examination at the tournaments that have dominated the CoD competitive scene and spurred eSports betting throughout the years pries open a truth about eSports – money matters.
A quick overview reveals the following landscape of CoD tournaments around the world:
Call of Duty Experience 2011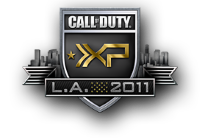 $1,000,000 at the Call of Duty Experience back in 2011, when Til Infinity won the competition played on the then-current version of the game, Call of Duty: Modern Warfare 3.


Call of Duty World League 2017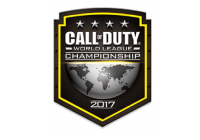 The most significant event for CoD, the World League Championship had $1,500,000 in total winnings in 2017, with team Optic Gaming claiming the reward. There was additional $25,000 for the MVP of the tournament.
The world of warfare has changed significantly since the olden days. Presently, Call of Duty commands throngs of fascinated players and an enviable amount of sponsors through leagues committed to the goal of popularizing eSports.
All of this contributes to a particularly fecund betting ground where CoD punters may wager on the outcome of matches and tournaments. Between 2017 and 2020, CoD tournaments generated $10,711,063, not counting media rights and eSports betting.
The Latest Call of Duty Game Will Create New Markets
The new Call of Duty game came out, and it has a fresh new look! This game's primary play mode is "Battle Royale," but with many additional modes – bound to be explored within the eSports betting scene as well. In only a few days since its release, Call of Duty: Warzone amassed more than 15 million players, and has become a phenomenon in the genre; in less than two weeks, 30 million players joined, making it (probably) the fastest-growing non-mobile game ever. It won't be long until tournament organizers put their resources together and add the newest CoD to the elite eSports championships.
Some of the game's unique features include a 150-player capacity "open-world" map that allows the creation of numerous "squads" – opening the possibility for team-based betting markets in any eSports bookie. The "Gulag" mode is a 1v1 mode with a twist that offers even more potential when it comes to additional side bets; the upcoming betting possibilities with CoD: Warzone seem limitless.
Cod Betting Summary: Farewell and until We Shoot at Each Other Again!
CoD is easily one of the most recognizable eSports titles and it comes as a small wonder, then, that it should spawn some swanky events and generate enviable revenues. The associated eSports betting that goes hand-in-hand with CoD's own rise to prominence is a natural extenson of the bonanza we know as electronc sports.
And even though it may oftentimes seem that CoD is finally giving up the gun, it soon becomes obvious that the eSports has just been taking a moment's respite to reload and discharge its whole arsenal, hitting profit targets as it rapidly burns through the clips. Overall, we approve of Call of Duty as your first eSports betting title. Lock and load, guys!
MORE FAVORITE ESPORTS GAMES THAT YOU CAN BET ON