Defense of the Ancients (DOTA) 2 is a curious nugget. It is what we can rightfully describe as a benefactor of eSports. The sword-and-fantasy game long presaged the electronic sports apogee and the segment's continuous development henceforth. Glitzy events have taken place in sold-out arenas around the globe, and viewership has mounted so much as to rival traditional networks in terms of advertisement revenues. Twitch has been a turning point in how electronic sports is perceived. Amid this vortex, a new phenomenon has been born, and today we examine eSports betting on DOTA 2.
DOTA 2 - Latest eSports Stats
Game Details
Genre: Multiplayer Online Battle Arena (MOBA) Format: 5v5 Publisher: Valve Corporation Release Date: 2013
Prize Money Awarded: $226,056,121 From 1,231 Tournaments
Largest Prize Pool
Tournament Name: The International 2019 Prize Money: $34,308,060
Top Country
Country Name: China Prize Money: $63,749,746.19
In the following review of eSports Hearthstone, we will focus on groundwork eSports betting and tournaments:
Tournaments and prize pools – we will sketch out a detail overview of all past, ongoing and future tournaments currently in the loop and try to consolidate your knowledge about DOTA 2 eSports.
Types of bets on DOTA 2 – in this part of our review, we will discuss the most popular types of bets on DOTA 2 and will offer viable strategies when wagering on the outcome of matches and how to better spread your bets to guarantee maximum profit.
In passing, we will make sure you understand the importance of betting at a good eSports bookie as opposed to shabby and badly cobbled-together imposters.
We will pay some attention to the type of betting known as skin betting which has caused legal-headaches to many bookies and seen Valve firmly throw its weight in the matter.
---
Types of Bets at DOTA 2 Betting Websites
There are two main types of bets in DOTA 2. Real money bets are the ones that interest you, and we will focus on the various subtypes of such bets and then move on to share our insights. Skin betting used to be a huge part of all DOTA 2 betting and was slated to continue to forge ahead until Valve put the crack on the practice after concerns had been raised that such gambling abetted child gambling. Just to garner a notion of what the market stood at before it was hit in 2016, take a look at the following diagram.
Real Money Bets
As far as real money bets are concerned, there is a motley bunch of those to go around:
Match betting
This is the simplest and ubiquitous type of betting. It is fairly easy to follow through. In this type of DOTA 2 betting you pick a team and lay a wager for it, no strings attached. You will need to show some understanding of the game before placing an informed wager. Since this is the introduction of the types of bets available, we will point out again that bookies lose 90% of eSports bets. Meaning punters will have a field day turning a profit. Keep in mind, though that the only way to generate profit by betting on DOTA 2 is to actually keep yourself informed.
What drags eSports bookies purses down is their reluctance to dedicate specialists who can systematically and passionately analyze the market, whereas punters are already sworn aficionados of the game they are lavishing money on. Just remember that over $10,000,000 of IT7's prize money came from crowdfunding.
Tournament betting
As the name suggests is the type of bet you place at the onset of an event. Again, we would recommend that you have had your fair amount of time spectating the game prior to plunging into this sort of chance taking.
Live betting
The International has reportedly fetched a hefty viewership base. Live betting is a great way to add an extra dimension to your betting game. It revs up the excitement n-fold. Still, in order to turn your live bets into profit you need to stay tuned. Luckily, bookies have introduced great tools mobile offerings of their desktop versions which pack the power of the website into your smartphone.
In addition, the appeal of eSports has largely been that they can be followed on the go, eliminating the bonds of the past.
Special bets
Those are quite self-explanatory. At the apex of betting around a big event, eSports bookies try to introduce some alternative DOTA 2 bets which may tilt the odds in their favor. Who will draw first blood or destroy an enemy's tower are among the most popular.
Here the advantage may be again on the side of the punter because we will still maintain that a person who has spent time following the game recreationally is still way ahead of the bookies.
Skin Betting
Skin betting was slated to be a big thing and a greater generator of revenues for bettors and enthusiasts alike. However, a flurry of excitement around another game eventually spilled over to DOTA 2 and led to the rather premature cull of two of the world's safest and, dare we say, coolest websites out there. One of those was DOTA2LOUNGE.
To the credit of DOTA2LOUNGE we ought to say, though, that the website tried to offset users by an ambitious self-funded program (a lot of people had their skins stuck amid the legal spat between Valve and those websites)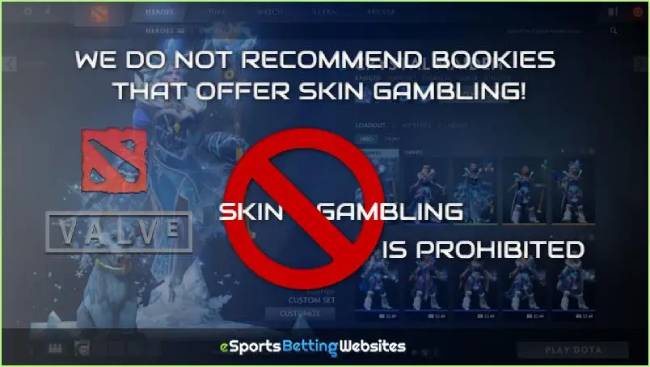 As to the status quo of skin betting today, it is outlawed. We suggest that you steer clear of bookies that offer money in exchange for skins as they will undoubtedly be operating under the radar, and given the US regulators' eagerness, not for long.
We are edging to a logical closure of our eSports betting guide. Before we part, let us highlight several main points of our narrative:
DOTA 2 eSports Betting Guide Highlights
Finding a proper DOTA 2 betting website is mandatory. You need to know that you can trust the service where you are not only laying down money, but also disclosing some financial information.
You need to continue and inform yourself about a game. Even though DOTA 2 has a steep learning curve, the abundance of information and guides readily available paired with professional commentators' own keenness to explain and break the game down to its basics for spectators of all experience levels, makes learning the ropes a rather more amusing journey.
Remember to follow social media and see what your favorite players are saying there. Subscribing for professional streams is also a viable option. Sometimes players may be put off their stroke easily and this may show in their behavior in the various channels of communication.
Lastly, consider practicing in a safe environment such as GosuGamers who offer alternative mode of betting whereby you place a made-up currency and try to predict the outcome of real matches.
Where To Bet On DOTA 2
---
DOTA 2 eSports Betting and a Large Pot of Winnings
The Final Match in Peru was the first LAN event, which offered a rather modest overall prize pool, with $50,000 up for grabs.
The event was important for two main reasons – it proved good training grounds for Swedish Alliance, who clinched a victory over the visiting teams, ahead of the International.
Also, the event harkened back to the roots of professional DOTA. Back in the day, LAN events were the norm. The Final Match was also ensnared and put in odds by bookies as they saw great DOTA 2 betting opportunity in the matter.
The seventh iteration of the DOTA 2 Dream League was an excellent opportunity for punters to place some bets. The prize pool was just about what the popularity of the game demanded, $175,000. Bespectacled MindControl, the team's star, helped TL forge ahead with 3:2 in favor of Liquid over Planet Odd.
Dream League is slated for an eighth season, so you may as well add it on your list of important events to be on the lookout for when eager to bet.
Staying abreast with developments in the competitive scene gives you that little extra knowledge you need to be successful when placing bets on DOTA 2
---
ESL One in Hamburg is just about to kick off in earnest and bookies are already piling up to flog their bets. The starting date is most auspicious too and it is going to be an action-packed Friday. The prize pool is $1,000,000 and that certainly induces profuse salivation. With such an important event on the cards, we suggest diving right into the different type of bets out there and how to make the most of betting.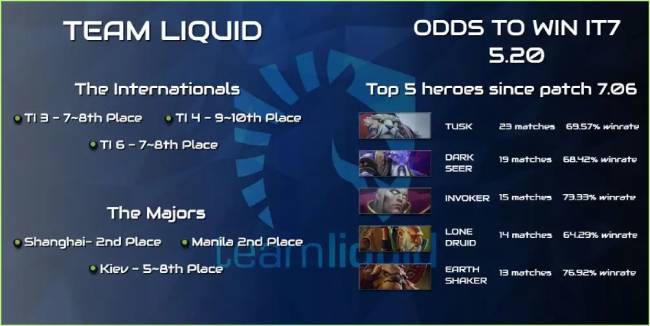 Meanwhile, keep in mind that Team Liquid won a victory at the IT7 and the team is a favorite for another one at ESL One Hamburg.
It is important to take a step back right now and understand why this event can be justified as the motherload of all DOTA 2 popularity. The game alone has been snowballing in terms of popularity.
In a word, the world has never quite been the same since the International. IT9 alone offered the whopping $34,308,060. This year's prize pool was the result of an exponential growth which has proven the commitment of Valve, DOTA 2's developer, to the game and electronic sports as a whole.
The unfaltering backing for the game has been a fillip to DOTA 2 eSports betting as well. In fact, the International is when the most DOTA 2 bets are placed.
Streamers have abounded and spectators as well as investors have been cottoning on. The first International held back in 2011 sent ripples across the eSports world, upending the rules of the game and not so subtly implying that more money would follow. Viewership was immense, and it has only been mounting since. Bookies perceived the event in purely monetary value, introducing a motley bunch of bets. You name it, there was something for everyone. Amid match bets, tournament bets reared their heads. Special odds of all stripes clamored impatiently for attention.
Live betting has been gaining traction with Twitch.tv blasting viewers with 24/7 live footage of players battling it out and commentators dressed in suits and armed with a host of bad jokes prying open the black box of DOTA 2 mechanics to the uninitiated.
Place Your Bets on DOTA 2
May the odds be ever in your favor and choose wisely
Splurge Your Bets on DOTA 2
DOTA 2, notwithstanding its steep learning curve and less than amiable player base, offers a great many eSports betting opportunities. After all, DOTA 2 remains the game with the largest eSports prize pool ever! The largest part of the year is dominated by large-scale events which draw out crowds by the throngs. The rest of the time there are aspiring rookies, who eSports bookies have begun covering more actively, because they have seen a chink in the armor of punters. The relative unfamiliarity with the amateur DOTA 2 scene has led to some tidy profits for bookies. But do you know what, eSports bookies? The chink in our armor is because we have seen great many battles, and we are out to get you!
MORE FAVORITE ESPORTS GAMES THAT YOU CAN BET ON