If you have a betting itch to scratch, 888 eSports is easily your bookie who will gladly relieve you from your pecuniary burden and offer you a great opportunity to multiply your riches. It offers a handsome welcome bonus and a variety of betting odds to have your fancy piqued at all times.
eSports betting is a new line of expertise for 888sports, but it is nevertheless one that the bookie has committed to in earnest. After the initial hubbub of setting up its eSports division, 888 has been expanding its operations in leaps and bounds.
By introducing several staple titles and a breath-taking number of odds to its offerings, the bookie has easily turned itself into a doyen of the eSports gambling. Live betting, mobile apps and a number of convenient payment methods are what makes 888 eSports stand out from the other eSports bookies.
888sport & eSports Betting
888sport Details
Min. Deposit: $10
Odds: 94%
Licenses: Gibraltar
Live betting
24/7 support
Live chat
Mobile app
Rating
eSports Betting

Bonus Conditions

Game Variety

User Interface

Odds Margins

Help & Support
Overall Rating:
E-Sports Games
Payment Methods
Welcome to 888 eSports, Here Is Your Money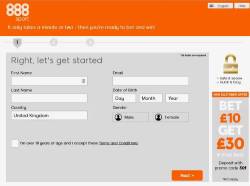 The phrase "What money?" pops right into one's mind. Well, 888sports does not stint, and it welcomes its novices with a generous how-do-you-do bonus. The bonus for new customers is $30 free bets. To qualify for the bonus, you must make a real-money bet of at least $10 on any sports market at minimum odds of 1/2. Keep in mind, though, that deposits made using e-wallets do not qualify for the free bets offer. You will have seven days to wager the free bet tokens before they expire.
Apart from the starter's bonus, 888sports runs a lot of homebrew offers for its mainstream sports, some of which rub off onto the eSports one. Due to their transience though, they are rather rare occurrences, but it would be prudent to keep an eye out for something that ups the ante.
Where the eSports Titles Have Gone?
Simply, there has never been as many eSports titles for grabs, not only at our reputed 888 eSports bookie, but also elsewhere just as well. Good ol' 888 sticks to the run-of-the-mill titles, which offer quite a bit of excitement in their own right.
Let us have a look at both the titles and types of bets available.
One the one hand we have all the usual suspects of the gaming industry:
On the two hand we have a variety of bets to pick from:
Live betting is definitely way up there. 888 eSports offers live betting as mounting viewership seems to be what spurs the industry as a whole. It is definitely what has necessitated for all bookies to develop reliable betting apps. A cash-in option helps punters protect themselves against things going awry by offering them a chance to withdraw their bets and just grab whatever earnings are available
Mobile betting covers all bets that can be placed on the website. We are talking match and tournament outcome odds here. More about this in the section below
Special odds will also pop here and there, as they are the trademark bets of all eSports bookies
In a nutshell, 888 eSports fares quite well across the board when it comes to a selection of bets and eSports titles.
Depositing and Withdrawing Funds
888sport Payment Options in Detail
Accepts Credit/Debit Cards:
Accepts Popular eWallets:
Min. Deposit:

$10

$10
Payment Methods:

Visa, MasterCard, Skrill, NETELLER, PayPal, paysafecard, Bank Transfer

Visa, MasterCard, Skrill, NETELLER, PayPal, paysafecard, Bank Transfer
888 eSports offers a variety of depositing funds, including Credit Cards, Debit Cards, Prepaid Cards, Wire Transfers, and E-Wallets such as Neteller, PayPal, Skrill).
A fewer withdrawing options seems to be available, but this is no bother.
The only snag that punters may hit is not necessarily a bad thing. Punters may only withdraw up to $30,000 at 888 eSports a month. Not a sum to be sneezed at all the same, but still a possible drawback.
Meanwhile, the mobile version of the website, available for both Android and iOS packs the functionality of 888 eSports into your smartphones. It shares the same wallet, so punters may tap into their funds as they bet from whatever version of the website they prefer. However, 888 eSports makes matters a tad complicated when you are opting for a version that runs on anything but iOS. You will have to request a code and then a download link will be sent to your mail. Still, not too shabby for being able to follow live betting and placing bets on the go.
Customer Care Support
Customer support is reliable, albeit unless you are calling over the phone, it may take some time for the chaps at 888 eSports to process your enquiry. Still, explaining your issue into detail usually yields good results.
Last of 888 eSports – So Much More in Store
888 eSports has definitely gone a long way. Introducing the fairly unprobed segment of eSports is not easy undertaking, especially to a comparatively small bookie. Not to mention that most bookies who plunge in the eerie realms of eSports betting are struggling to turn a profit. Whatever the odds, however, 888 eSports seems to know its stuff and the website has bene expanding at a good clip, sweeping many a follower in its wake.
NOT SURE WHICH ESPORTS BETTING SITE IS RIGHT FOR YOU?