Riot-developed League of Legends (LoL) easily makes any other eSports title out there eat humble pie. The potency of the game and the trends that originated from it, including live betting, are not to be sneezed at.
LoL has gone from a newly-fangled youngster spoiling for a fight to a behemoth calling the shots in the eSports industry. What innovation there is about eSports or eSports betting, it percolates efficiently around because of the contributions LoL has made to this particular segment.
In this review, we are dwelling on the perennial prey of philosophy: What is LoL eSports betting and how to be a bit better at it? We will go over important aspects of the competitive scene, such as types of bets, tournaments, viewership, and lastly, viable stratagems when setting out to wager on LoL.
League of Legends (LoL) - Latest eSports Stats
Game Details
Genre: Multiplayer Online Battle Arena (MOBA) Format: 5v5 Publisher: Riot Games Release Date: 2009
Prize Money Awarded: $73,572,368 From 2,409 Tournaments
Largest Prize Pool
Tournament Name: LoL 2016 World Championship Prize Money: $5,070,000.00
Top Country
Country Name: Korea Prize Money: $25,279,837.65
Our Criteria for Selecting the Best LoL Betting Sites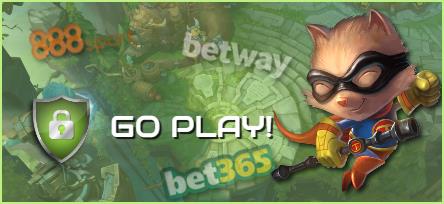 Before we recommend a LoL bookie, we first check whether they're licensed, regulated, and secure. If we see the logos of a licensing organization and a third-party testing agency, as well as the green padlock in the address bar signifying an encrypted connection, we know this is a safe site guaranteeing the security of our data.
Then, we take a look at the bonuses and wagering requirements. Most bookies say hello to new customers with juicy bonuses but in order to get the bigger picture, we also check the wagering requirements and qualifying deposit. Next, we make sure the website can be accessed from and easily navigated on a mobile device – in 2020, sports betting has gone mobile just like all other online industries.
When we've ticked all of those off our list of criteria, we take a look at the eSports section – how many sports are there available, can we bet on the major tournaments and what markets are available are all questions whose answers we seek. If we find them satisfactory, we feel confident to place a wager and recommend the site to our readers. But what betting options exactly do you have once you've already decided to place a bet? Read below for detailed explanations!
---
League of Legends Types of eSports Bets
Let us begin with the websites that offer eSports bets. There is a merry gathering of those and you will do well to learn to tell the good ones from their slightly shabbier counterparts. So, how do our recommended websites outstrip the competition? Put simply, they have a trackrecord of reliability and their offerings are quite generous.
We have reviewed all of the ones listed and our impressions are mostly positive. It is worth noting that the bookies we maintain to be one of the better ones are the main proponents of eSports betting and not only that, but they have overcome great legal odds to lend some credence to the market as a whole and position it well for a future growth.
Where To Bet On LoL
Take a look at the events, markets & odds:
We realize that you would like us to plunge right into the tips of bets available for LoL eSports, so without dilly-dallying any further, let's get right into it.
Match Betting
We have argued that those are your staple bets. They offer the best WIN:LOSE ratio and will fetch you the most profit. Just as in with real world bets, on football, for example, there are types of bets that can justly be called safe. Match betting, of course, has to do with the outcome of single matches. And luckily for us, there are always ways of optimizing our profit and winning even a bit more. Let's have a quick gander at the mainstays of eSports LoL betting.
Odds juggling
We have mentioned good ol' odds juggling. With a slew of bookies out there to bet at, you need not always bet all your capital on a single bookie. Instead, spread your bets across multiple platforms as this will maximize your profits.
Background knowledge – background knowledge all has to do with the individual punter's due diligence done ahead of an event. In League of Legends, it is very common for the underdog to claim victory over an established team. With this in mind, sensing the subtle ripples of change ahead of major cataclysms can save you some trouble and also fetch you good money.
In fact, the reason why eSports bookies lose so much on LoL eSports betting and any form of eSports betting for that matter is simply because they do not have enough dedicated analysts onboard to untangle the knot of eSports betting. Ironic, we know, but actual eSports enthusiasts are way more prescient about the outcomes of matches. The hyper-connected world we live in today has allowed fans to stay up-to-date through various channels such as Twitter, Twitch and professional media outlets dedicated to eSports.
Staying tuned – The bulk of people who place wagers these days are aged between 20 and 37. They have plenty of disposable income and they love to stay tune and bet on the go. Acquiring a smartphone to keep track of results can significantly boost your profits, as you will always scrap together a few minutes during the busy day to put a wager or safely fold another.
With all of this being said, let us continue with the types of bets left available out there.
Tournament Betting
Tournament betting can be equated to match betting, however this type of betting demands not only a great understanding of the game and the intricacies of the competitive scene, but also a great deal of luck. Being a highly-competitive title, eSports LoL draws countless many enthusiasts who want to try their hand at a grand event.
As things have been going these days, putting together a power house in competitive League of Legends is a taxing undertaking but one that may be completed within 12 months to the terror of already established names.
Special Odds
We will have to give the bookies some credit here. Special Odds are, on average, more likely to generate profit for the bookies as they are completely contingent upon the whimsy of said eSports bookies. Still, they add dimension to the game. We too often punt on special odds as in if a certain accomplishment within the game would be achieved and by which team. At the same time, by introducing special odds, the bookies have demonstrated a great ability to channel both profitability and pique viewers' interest.
Live Betting
Live betting is, without a doubt, another bedrock part of betting. We have already talked about punters who are constantly on the go and would not like to be tied down to a couch to watch and follow any type of eSports event.
With mounting viewership and some 400 million people tuning in at the same time to watch the World Championship, we can easily understand why bookies have been quick to adapt their desktop versions for mobile phones, allowing for even more betting.
We will argue that live eSports betting on LoL can be both entertaining and profitable. However, caveat emptor! Do keep your eyes peeled and refrain from betting unless you intend to tune in and follow matches up close.
Place Your Bets on League of Legends
May the odds be ever in your favor and choose wisely
LoL eSports and Its Countless Battle Arenas
Cutting to the chase here, in order to be a speck better at LoL eSports betting you will need to familiarize yourself with the landscape of events out there, remain vigilant not to pass up on any juicy prize pool (as those spur bookies into action, having them offer the best odds). We will also teach you about eSports LoL odds and how to make the most of those later on.
Now, the tournaments.

The World Championships marks the end of the 2019 League of Legends eSports season, and to some extent that for eSports betting on LoL.
Back in the day when Riot introduced their World Championships and gave some clout to eSports LoL, nobody would have thought that the knock-on from that would be ubiquitous eSports betting and fans throwing in millions of dollars to support their team.
The fanfare alone has generated whopping amounts of money, but even the enthusiasts' paraphernalia has been overshadowed by how much fans have contributed for the latest iteration of the World Championships.
Why do we think LoL eSports betting on the World Championships is good?
The World Championships offer ample opportunity to place wagers. Because of how broadly covered the event is, bookies try to elbow each other out of the way by offering the best odds. This is healthy and a huge fillip to anyone considering a wager on LoL eSports.
Why? The answer lies in plain sight – punters are usually the ones to benefit from eSports bets.
The odds juggling strategy we discussed earlier can be particularly useful as it basically takes just a bit of window shopping first prior to laying down any hard-earned cash.
Again, in passing, in eSports you want to be, for the most part, wagering on match bets, i.e. betting on the winner of a match-up as opposed as falling for any pitfalls that may spruce up the eSports experience, but are not a reliable betting strategy in the long term. Overall, you will need to go through the offers of some of the best bookies out there, and spread your money between the better offers.
It is no surprise that event of the scope and scale of the World Championships would be such a blessing to anyone who wants to try their hand at LoL betting. In 2016 alone, there were 396 million concomitant viewers.
If those numbers flabbergast you, then hold on to your hats, because even though the current iteration of the tournament is going in full blast, some estimates show that the viewership base will grow by 20%. And that is just awesome.

Looking further down the line, the 2017 LoL Champions Korea proudly rear its head. Perhaps shakes a shapely rear. This event also commands some respect with its hefty prize pool of $240,000. Right after the World Championships, things may quiet down for a bit, but the outward calm is deceptive and eSports bookies will come blasting ahead with a variety of LoL eSports bets.

Next on the menu is another Korean tournament, the League of Legends Master Series. As the name suggests, the tournament rallies some of the top nobs of eSports competition, again creating conditions that turn out to be most favorable for those among us who are keen on LoL eSports betting. The prize is handsome $240,000 and book offerings are available aplenty.
It is perhaps worth interjecting here that the abundance of tournaments held in Asia perhaps has to do with the fact that video gaming, let alone its competitive offspring, has never drew the same sort of ire it did in the west where such endeavors were the preserve of social misfits.
LoL eSports betting highlights:
There are a great many tournaments which would require from punters to stay abreast of current developments by informing themselves day in and day out
Most tournaments prize pools are important enough to generate great viewership, which in terms excite bookies who flog offers
Your chances of losing an eSports bet on LoL is 10% (however you ought to be well informed)
---
A Legend of eSports Betting Is Born
There is no sign that the inexorable march to popularity LoL eSports enjoy will diminish. The game is already handily outpacing traditional sports events. And as bookies compete to thrash out the next set of winning odds, punters will surely have a thing or two to say, intervening just in time to bag a large of pot of winnings. Cock up your ears, bookies, the betting bonanza may be upon you, but so are we, the savvy punters. After all, League of Legends matches are still the most watched ones in the eSports scene.
MORE FAVORITE ESPORTS GAMES THAT YOU CAN BET ON