After reviewing this bookie, our specialists have determined that it does not meet our ranking criteria.
Please review below some of our recommended choices
BEST ESPORTS BETTING WEBSITES FOR 2023
BitFight & eSports Betting
BitFight Details
Min. Deposit: €5
Odds: 64%
Licenses: Curacao
24/7 support
Mobile app
No VIP program
Rating
eSports Betting

Bonus Conditions

Game Variety

User Interface

Odds Margins

Help & Support
Overall Rating:
E-Sports Games
Payment Methods
Signing up Is Easy at BitFight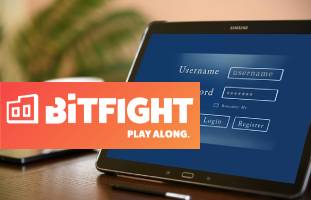 Registering with a new sports betting site shouldn't be a hassle. In fact, these days, esports fans expect to be able to register their details quickly and get stuck into the betting markets.
And, in keeping with their reputation as a cutting edge esports site, BitFight have designed an intuitive and easy to use sign-up process. Registration begins when you click on the Login button, which will give you the option to sign up. Simply enter your email address, choose a password and you will be asked to choose your favourite esports game, then thrown straight into the action!
You can watch Twitch streams for free, and then when you're ready to bet, you can register your payment details via the Dashboard section of the site. Overall, we were pleasantly surprised by the sign-up process which is a lot faster and more user-friendly than you find with most betting sites.
A Limited Range of Esports
Esports fans are used to having to put up with a limited selection of esports on traditional sports betting sites. But you might expect a dedicated esports site like BitFight to provide a big selection of esports events and markets. Unfortunately, this isn't the case.
The BitFight platform is based on betting on the live stream of Twitch esports streamers, so it doesn't usually feature tournaments. But the biggest problem is the limited choice of esports. There are only three available with BitFight: Apex Legends, League of Legends and Fortnite.
The site suggests that other games will be added soon. In fact, the home pages list another eight games that are set to be added, including popular choices CS:GO and Dota 2. When these eight titles are added, the BitFight platform will look a lot more attractive, but right now, it has only limited appeal.
Good Market Variety but an Unusual Interface
When you're betting on esports, you don't want to be confined to the basic match winner markets. The growth of the esports betting industry has led to the creation of some innovative betting options, and esports betting fans want to be able to take advantage of that variety.
The good news is that there is plenty of market variety on this site. For example, during a typical League of Legends stream, you may find that there are up to 20 markets to bet on, including Total Kills, Next Kill, Map Objectives and Kill Difference.
But the way these markets are presented is unusual. Instead of offering you an array of markets to choose from, BitFight will offer you one market at a time during the play, at a rate of one every 90 seconds. This will appeal to some esports betting fans and it is certainly an unusual approach, but esports bettors looking for a traditional betting experience may find it frustrating.
A Site Built for Live Betting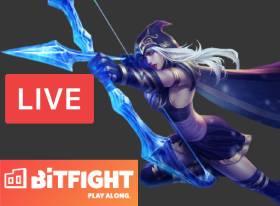 Esports is a fast and dynamic pastime and it fits perfectly with the equally popular live betting sector. Many sportsbooks offer some live betting esports opportunities, but these are usually extensions to the main esports markets. BitFight, however, turns that model on its head, with a betting platform that is completely focused on live betting.
The fact that the site offers you just one bet at a time, every 90 seconds, will also appeal to those who want to get into live betting, but who find the traditional live betting model overwhelming. In that sense, BitFight is more of an extension to the existing model of fans watching their favourite esports player, rather than a hardcore live betting site, and more experienced live betting esports fans may find it doesn't suit their needs, but for the casual live betting fan, BitFight offers a straightforward, entertaining way to combine watching esports live streams and wagering on different outcomes.
Complete Mobile Compatibility
The mobile betting boom has gathered pace in recent years, and now most of us who bet online choose to do so through mobile devices. The betting industry has worked hard to meet this demand, and BitFight are no exception, offering a site that is fully mobile compatible.
As one of the newest online betting companies in the world, it is no surprise to see that BitFight have not taken the approach that prevailed in the early days of mobile betting when bookmakers would develop dedicated mobile betting apps for their customers.
Instead, BitFight have produced a site that has been optimised to run smoothly in the mobile browser of any device, offering complete access to all the site features, and providing smooth streaming footage. Esports betting fans who like to bet on the go will find that this site meets all their needs.
Licensing Concerns at BitFight
If you are considering signing up to an esports betting platform, you want to be sure that the site is properly regulated and is a reliable operator, before you hand over your personal information.
Reassurance is often provided by a site holding a certificate or licence issued by one of the leading regulators, such as the Malta Gaming Authority or the UK Gambling Commission. Unfortunately, this is not the case with BitFight. The site is officially licensed in Curacao, and although this is a popular licensing authority in the casino betting industry, it does not have a great reputation.
We were also disappointed to find there were no certificates from third party auditors or data security specialists displayed on the site, and no links to any information on responsible gambling. This is particularly concerning because the BitFight platform is likely to attract esports fans who are new to betting, and it would be appropriate for the site to offer guidance and advice for those that might be at risk of gambling harm. Overall, we feel there is plenty of room for improvement on licensing.
Effective, Modern Banking at BitFight
BitFight Payment Options in Detail
Accepts Credit/Debit Cards:
Accepts Popular eWallets:
Min. Deposit:

€5

€5
Payment Methods:

PayPal, Visa, MasterCard, Skrill, NETELLER, Bank Transfer

PayPal, Visa, MasterCard, Skrill, NETELLER, Bank Transfer
Few things are more frustrating to a sports betting fan than unnecessary delays and complications when it comes to being able to deposit money and withdraw your winnings. The BitFight site performs well when it comes to deposits, although we would have liked to see more deposit options. The full range of methods available for deposits with BitFight are: Visa, Mastercard, Skrill, NETELLER, PayPal.
In terms of speed, deposits and withdrawals are processed largely in line with the average for the industry, with most deposits being instantaneous and card withdrawals taking longer than e-wallet withdrawals. So far so good, but there is one flaw with the BitFight payments system. There is a minimum withdrawal of $15 and you can only make one withdrawal every 24 hours.
In addition, all subsequent withdrawals within 30 days of your first withdrawal will attract a $5 fee. These withdrawal restrictions are disappointing, and we hope they are merely short-term measures that will be dropped once the site has been running for a while.
No Welcome Bonus at BitFight
Esports betting fans will be familiar with the concept of the welcome bonus, offered by sports betting companies to persuade new customers to sign up with them.
We had heard that BitFight offer a small bonus of $5 to those who register with the site. Unfortunately, we could find no evidence of this on the BitFight site. New customers do earn 500 Play Points for signing up, but these points appear to function as part of a loyalty program rather than the traditional welcome bonus that enables you to access a free bet.
There is a refer a friend promotion, through which you can potentially earn $5 for every friend you refer, up to a maximum of $1000, and that may be appeal to some esports betting fans. But overall, we were disappointed with the bonus offerings at BitFight.
Esports Friendly, Modern Layout
The esports betting fan often has a raw deal with traditional bookmakers, who hide the esports betting section in a corner of their site. In fact, esports fans often have to search to find the esports betting markets, and there are very few other tools provided to help boost their betting.
We're pleased to say that isn't the case at BitFight. The opening page, when you first visit the site, is bright and clearly laid out and gives you the option of clicking on your favourite of the three available esports games, to get straight into the action. There are also tabs to take you to current live matches, to the BitFight discord server or to start the sign-up process.
Clicking on the Lobby button gives you a new menu, including the option to check out your account, make deposits and withdrawals and amend your details, as well as enabling you to find out more about the $5 bonus offer. This section also gives you an achievement board, which you can fill as you use the site more. The whole layout is well-designed and intuitive, and BitFight deserve a lot of praise for producing a site that combines the best of gaming and betting.
Customer Service Falls Short
Customer service is another important factor to consider when you are choosing a sportsbook site. It's good to know that if you need the answer to a question or you want to solve a query, you can access the help you need quickly and effectively.
Unfortunately, we can't give BitFight good marks in this category. It seems that the only way for customers to contact the site is through their Discord facility, which opens automatically whenever you click on the Contact Us option at the bottom of the home page.
While this may be a suitable way for some esports betting fans to have their queries resolved, we would prefer to see the site offering a traditional Live Chat service as this would be more reassuring to many users. In addition, there appears to be no way of contacting the operator by telephone and although there is an email contact, it is hidden away in the Terms and Conditions section of the site. There is clearly room for improvement on customer service and we hope that the operators of BitFight take the time to address these concerns in the months ahead.
Support
Phone
Live Chat
Email
Rating
Visit

BitFight

Phone:

Email:

help@BitFight.tv
FAQ
How many betting markets are available at BitFight?

BitFight offers one betting market every 90 seconds during a live stream.

Is the site mobile compatible?

Yes. It works well in the mobile browser of most devices.

Can I make deposits with PayPal?

Yes. BitFight accepts PayPal deposits.
An Interesting Esports Site with Some Problems
It is always exciting to come across a new type of esports betting site, and BitFight is one of the most innovative that we have seen. It is well-designed, easy to use for newcomers and is based around an intriguing betting model, that is an extension of the enormous popularity of some Twitch streamers.
But there are some flaws with the site. While it is ideally pitched to appeal to newcomers, the more experienced or committed esports betting fan may find it frustrating that they can't bet on a wider range of markets. In addition, the lack of reputable credentials and poor customer support may deter many potential customers. Overall, however, this is an interesting site that could be the model for the esports betting of the future, and we recommend taking a look at it if you are into esports betting.
NOT SURE WHICH ESPORTS BETTING SITE IS RIGHT FOR YOU?