After reviewing this bookie, our specialists have determined that it does not meet our ranking criteria.
Please review below some of our recommended choices
BEST ESPORTS BETTING WEBSITES FOR 2023
With the video gaming industry generating more than a $100 billion per year, you can see why sportsbooks want in on the action. LeoVegas E-Sports betting has been around for quite a while, and today this bookie continues to follow major and minor E-Sports leagues and offer markets based on all those events.
Today we learn about this sportsbook and its contribution to the E-Sports bookie scene - maybe you will find the lucrative environment you've been looking for.
LeoVegas & eSports Betting
LeoVegas Details
Min. Deposit: $10
Odds: 69%
Licenses: Malta
Live betting
24/7 support
Live chat
Mobile app
Rating
eSports Betting

Bonus Conditions

Game Variety

User Interface

Odds Margins

Help & Support
Overall Rating:
E-Sports Games
Payment Methods
Championships and Leagues
The types of leagues that usually are reflected within mainstream media, and of course, this sportsbook, are three. First and most common ones, are the minor events. Those are usually hosted on a regional level and can have a relatively small prize pool (an example of the biggest winnings in minor event history, is $90,000).
Major league championships usually determine a continental champion, with prize winnings that can go as high as $300,000 and Premier Events are considered to be the cream of the crop. Worldwide tournaments can rake up to a million dollars for the winning team. All types of minor major and premier events can be hosted by the same organization.
Here are some of the most notable events covered by the markets of Leovegas.
All About Counter-Strike: GO
The featured events in the CS: GO category, are The BLAST Pro Series, ECS, ESEA, ESL One, OESL Pro, Gfinity Spring Series, Kalashnikov Cup, StarSeries & i-League, and the Thunderpick Invitational. Although the scale of the event and the prize pool may be different between competitions, the E-Sport betting opportunities here are the same. Basically, punters will have the chance of placing a bet on a win/lose scenario on their favourite event. If there is enough public interest, LeoVegas E-Sports betting might introduce additional bet types.
Heroes of the Storm – The Global Championship
Also referred to as the "HGC", this Heroes of the Storm competition is the premier event for this competitive title. Since the conception of the event a few years ago, it has undergone several format changes. Today, the HGC is split into "Phase 1 and 2" in which different regions will do virtual battle in a new league format. The LeoVegas E-sports market opportunities here, are as the same as those offered in other championship events – win/lose betting.
Starcraft 2 – Global Events
The Global Starcraft 2 League (GSL) is another premier event that mainly sees attendees from all Asia, as it is considered somewhat of a precursor event to the Global Finals held in the USA. When the GSL comes to a conclusion, it will probably give way to new market opportunities for customers of LeoVegas E-Sports. For now, the available opportunities to punters here are 1 on 1 matches. Starcraft 2 players are considered in the industry to be no less famous than athletes from other sports, so make sure you follow those odds closely.
The League of Legends – The World Championship
A multiplayer online battle arena title by the name of League of Legends is known to be the most played computer game in the world. With last year's numbers towering at around 89 million players, The World Championship event is truly is something to behold – both in terms of entertainment, and the provision of markets to bet on. The LoL WCL is hosted every year by the developer of the title – Riot Games, and it is held in 5 stages. The championship starts with the Qualifiers, moves into the Play-in-1 stage, Play-in-2 stage, Group Stage and ends with the Knockout Stage, where eight teams compete over seven days in the format of single bracket elimination.
Sportsbetting – Other Markets
More than 30 other sports offer a variety of market to punters that bet in LeoVegas. Among the most common ones, are Soccer, American Football, Tennis, Basketball, Boxing, Rugby, and more. For bettors that like a completely different way to wager, they can do so on markets regarding Politics; laws and referendums, elections, etc. Regardless of the sport/section, you would like to play in, the markets will either be separated into categories based on events, countries or other filters.
The Welcome LeoVegas E-sports Bonus
Straight up, there is a welcome offer for newly-signed punters which comes in the form of (up to) a crispy $200, 100% deposit match. Naturally, some requirements need to be met in order for this bonus to be released into a player's possession, and for this promotion, punters will need to make a bet on odds of 1.5 or higher.
While there aren't any other listed limitations to the welcome offer, the best way to go about it prior to opting-in is to contact customer support and get the full info.
When it comes to bonus offers you can be sure that LeoVegas sports most certainly has a specific edge over many other esports bookies, and this comes in the form of mobile promotions. That's right – all of the extras you would discover under the tab "bonus offers" are for "mobile devices only". Having said that, the offers can be quite lucrative. Although in many variants, those LeoVegas sports bonuses come in two major classes – free bet money, and a percentage profit boost. For example, if a punter places a stake of $25 on American Football or Basketball in doubles or bigger combinations, they will be looking at an additional bonus 20% on top of their winnings. There is a maximum limit on how much a player could win, but it still is a good deal.
Free bets come in the range of $10-$20. They are usually offered for a single "live" market. The most common ones are Football and Tennis, although there are sometimes NHL live markets as well. An additional condition in the mobile bonus program is that you cannot use the funds in "system bets". This type of promotional program seems to be periodic, as the current expiration date is set for the 1st of the following month. Sadly, besides the welcome offer, there aren't any other bonuses you can use on E-Sports markets.
LeoVegas E-Sports Live
The Top Live markets are always displayed right away when you open the sports section of LeoVegas Sports. Additional market sections are listed below and are ready to be expanded upon the click of a button. The currently active markets are situated on the left, while on the right are the "top upcoming" ones.
Navigating to the bottom of the page provides players with tons of additional information on live betting, mobile sports betting, and even more.
LeoVegas Sportsbook Registration
The registration process for your LeoVegas sports account will take you through 2 steps.
In the first one, you will be required to input a valid email address, a password of your choosing, and a valid mobile number. Note that you will also have a welcome bonus "switch" which will indicate if you would like to begin with a welcome promotion or not.
After moving onto the next step, what will remain to input is the confirmation code sent to your number via SMS, your names, address, and date of birth. Note that LeoVegas sports also adds a "session limit" option which can be used by the player to shorten his gaming sessions. After ticking off the "agree to terms and conditions" box, an email will be sent to you, so you can activate your account.
Deposit and Withdrawal – General Banking Methods
LeoVegas Payment Options in Detail
Accepts Credit/Debit Cards:
Accepts Popular eWallets:
Min. Deposit:

$10

$10
Payment Methods:

Visa, MasterCard, paysafecard, NETELLER, Bank Transfer

Visa, MasterCard, paysafecard, NETELLER, Bank Transfer
Once your account is activated, you will be taken immediately to the deposit section of LeoVegas Sports. As with most sportsbooks, like GG.Bet and others, while there are a number of standard ways you can make a deposit, such as with a Visa or Mastercard, other methods might be available to you depending on your location. The positive trait here is that when you click on a method, a simple information box displays the fee % (if applicable), minimum deposit limit, maximum deposit limit, and availability (the time at which the money would arrive in the bookie's account). So far, of all the available deposit methods there isn't one that will charge you for funding your account.
With the withdrawal system, the things are a bit different here – in the sense that when you navigate to the withdrawal section, the options displayed there can be a bit misleading. While it might only show "bank transfer" as the only viable options, there are also iDebit bank transfers (which require an iDebit account) and also Instadebit, which is an E-wallet that allows withdrawals to be made instantly. Regular bank wire and iDebit transfers might take up from 1 to 5 days. A player can request up to 3 free withdrawals in a 30-day period; should a customer wants to do more, they will be charged $3 per transaction.
Supported Currencies
SEK NOK, Sterling, EU, CAD, GBP. An interesting observation here is that LeoVegas Sports is probably one of the few sportsbooks that don't use United States dollars – and this could largely do with the fact that online gambling is quite illegal in the US. When you register an account, the currency at which your balance will sit will be chosen by default by the location of your residence. Sadly, there isn't an option where you can switch to a different currency – but that doesn't mean that you can't change it. The only way you can actually have that done is if you change your country of residence which is something that will need to be confirmed with the appropriate documents.
The App and Mobile Functions
While the bookie doesn't offer a specific LeoVegas E-Sports betting app, they do provide a separate app for mobile users that includes the entire sports section of the brand. Of course, it also features E-Sports markets, allowing punters to act on the go. With the LeoVegas E-Sports betting app, we've discovered something quite interesting – it comes only for Android users.
While Apple phone fans would still be able to navigate to the mobile version of the website through their device's browsers, there might be a hope in the future that an app for them is released as well – till then, they will have to make do with the browser version of the sportsbook.
Licensing and Regulations
LeoVegas Gaming plc is the company responsible for the LeoVegas brand. This being said, the company is registered in Malta. Licensing and regulation come from the Maltese Gaming Authority, but that isn't all. Different countries require different types of certification, and this is why LeoVegas is also licensed by the United Kingdom Gambling Commision, as well as by the Danish Gambling Authority. All respective license types and numbers are listed in full at the bottom of the home page.
LeoVegas Live Streaming Services
We regret to inform you that there isn't any way you can watch sporting events in real time at LeoVegas. There is a graphical representation of real-time events, in the form of a box that shows what is currently happening in the game – which is more for reference purposes rather than actually following the sporting event in question.
It is a common practice these days for minor and major E-Sports events to be streamed for free online, so the fact that LeoVegas Sports doesn't have live streaming of those isn't a loss. Streaming regular sports, on the other hand, is a matter that requires licensing with the media that covers the events in question. Due to the complicated and often financially difficult nature of this matter, it is understandable why live streaming isn't present.
The Bet Slip in LeoVegas E-Sports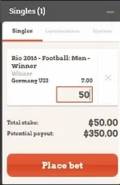 If you have any experience with online sportsbooks, you will notice something when you open the website right away. A bet slip window would usually be located in the upper right side of any page, but here it seems to be completely missing. Once you select any odd, the Bet Slip window will appear from the bottom of the page, revealing a familiar visual element.
On the top part of the Slip, you will see tabs designated such as Singles, Combination, and System – where you can follow the types of bets you want to make. Once you've made a market selection, input an amount of your bet, and the total stake and potential payout will be displayed automatically below.
Bet Formats and General Settings
There are many options when it comes to the customization of your own betting field. On the navigation panel below the sports section next to the phrase "bonus offers" you will find the "settings" section.
Bear in mind, that depending on your country of residence, the format of your odds might be set by default to decimal, fractional or American; should you want to change them, this is where you will be able to do it from. In addition to the formats, you will be able to modify the "odds change behaviour".
Sportsbook Software Provider
The sportsbook platform, market information, and real-time data are provided courtesy of Kambi Group pls. Kambi is known to deliver a very agile an innovative product, that is hailed as being one of the most "user experience-driven" platforms online.
The company itself does possess licensing, certifications, as well as legal recognition by many of the leading authorities in the field, such as the Malta Gaming Authority, and the UKGC.
Customer Service
The customer service agents seem to be active 24/7. A wonderful live chat function gives punters the chance to contact the LeoVegas E-Sports straight away, without having to wait more than a few minutes. All agents will provide assistance in an understandable manner, so you won't have to worry that you will feel confused.
The chat option itself has two functions – leave a message, and live. One of the best parts about the customer support here is that you can contact a live agent even if you haven't yet registered an account!
Some Pros and Cons
You can't have the good without the bad, and vice versa – albeit LeoVegas does certainly try to break that stereotype by having very few flaws. Among those drawbacks, we most certainly count that the biggest is availability. The fact that there are far too few countries you can access LeoVegas Sports from, is a bit disappointing. In another case, the lack of live streaming isn't considered a huge loss, but the few withdrawal methods might rub some punters the wrong way. Last but not least of the pet peeves is the slightly confusing market list. If you wish to find out that E-Sports section, you will really have to navigate through at least two drop-down boxes in order to locate what you're looking for.
Moving onto the positives, it is noteworthy to mention first, the fresh design of the website. The variety of E-Sports titles, championships and competitions are indeed quite large, giving punters numerous betting possibilities. The LeoVegas sports betting app is another nice addition, and the numerous promotions offered here are definitely keeping the punter's action going at all times.
Countries and Jurisdictions Allowed in LeoVegas
While in some instances there is a list of "banned countries" here it is the opposite, due to the small number of jurisdictions. Allowed countries are Denmark Austria, Ireland, Finland, Germany, Netherlands, New Zealand, Norway, Sweden, Switzerland, UK Canada, Italy, Gibraltar, angora, Malta, Iceland, Portugal Lichtenstein, Luxemburg. People that try to log into the website from any country not mentioned here, will be redirected to a message stating, "not allowed access or something like that check to be sure". Laws do tend to change internationally, so we won't be far off if we say that in the future the list of allowed countries will be expanded.
Conclusion
It is very easy to see why the LeoVegas E-Sports betting platform is something that appeals to people. The intuitive navigation between features, a properly optimized environment and an extensive customer support delivers a solid experience.
The fact that LeoVegas has been awarded numerous accolades throughout the years for overall excellence in the online gambling industry, further shows that this sportsbook is held in high regard by both critics and customers alike. If you happen to be in one of the countries supported by the LeoVegas E-Sports betting platform, give it a go – you might just like it too.
NOT SURE WHICH ESPORTS BETTING SITE IS RIGHT FOR YOU?