After reviewing this bookie, our specialists have determined that it does not meet our ranking criteria.
Please review below some of our recommended choices
BEST ESPORTS BETTING WEBSITES FOR 2023
For many fans of esports, having a bet on your favourite team, player or tournament is a natural extension of following the sport. But with so many online sportsbooks out there claiming to offer the best esports betting opportunities, which should you choose?
Our exclusive Nitrogen Sports review will give you all the key information about this Bitcoin-only sports betting site, and how good it is for esports players. We will take a close look at the variety of esports they offer, and how many different markets they provide for each match. And we'll tell you more about the other aspects that make a great esports betting site, from the quality of their customer service and their mobile platform to the range of bonuses, live betting and other features they offer.
Nitrogen Sports & eSports Betting
Nitrogen Sports Details
Min. Deposit: 0.0001 BTC
Odds: 86%
Licenses: Curcao
Live chat
Live betting
24/7 support
Mobile app
No VIP program
Rating
eSports Betting

Bonus Conditions

Game Variety

User Interface

Odds Margins

Help & Support
Overall Rating:
E-Sports Games
Payment Methods
Innovative Sign Up at Nitrogen Sports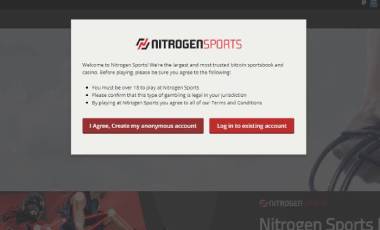 When you sign up with a new sportsbook site, you don't want to have to fill in too many forms. These days, registering online should be a quick and easy process, and we were pleased to see that Nitrogen Sports have adopted a typically innovative approach to joining.
In fact, the sign-up process starts as soon as you visit the site for the first time! You will find a message on the home page saying that they have already created an account for you, which you can then confirm by choosing a username and password. If you then click on the Add Username button, you can complete the registration process.
The site may ask you to provide further identification documents. This usually involves uploading an e-copy of a government form of ID, such as a driving licence or passport. Although it can be inconvenient, the process is usually completed quickly and efficiently.
A Reasonable Choice of Esports
Esports betting fans will be used to the experience of checking out a new sports betting site and then having to search for the esports section! Nitrogen Sports is not a dedicated esports betting site, and they don't have a special esports section, but their coverage of esports is wider than most traditional bookmakers you will come across online.
They provide betting on most events associated with the four big esports: CS:GO, Dota 2, League of Legends and Starcraft 2, as well as a respectable range of options for some of the minor sports such as Hearthstone, King of Glory and Smite. Although their tournament coverage is mainly focused on high-profile sports, they will set up markets for some tournaments based on lesser sports.
Starcraft
Heroes of the Storm
King of Glory
Overwatch
Counter Strike: Global Offensive
DOTA 2
League of Legends
World of Tanks
Rocket League
Smite
Although there are sites out there that offer better overall coverage of esports, the variety available with Nitrogen Sports is respectable and should meet the needs of many esports bettors.
Limited Choice When It Comes to Markets
Although Nitrogen Sports do a relatively good job of covering most esports, their range of markets for each sport they offer is disappointingly small.
When we checked out the site, we found only one or two markets available for upcoming games, even for major sports such as CS:GO. Match betting markets appear to be confined to Match Winner selections, and while they do have good tournament coverage, you will rarely be able to bet on anything more exotic than the simple Tournament Winners markets.
It was particularly disappointing to find that Nitrogen Sports don't offer any of the popular sport-specific markets, such as First Blood for CS:GO or First Tower for Dota 2. The good news for esports betting fans is that the site offers some of the best odds on esports betting we have come across, with a very high maximum winning limits, though these vary from market to market. If you're prepared to sacrifice market choice for better odds, then Nitrogen Sports could be the site for you.
Room for Improvement on Live Betting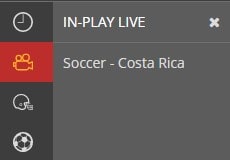 Esports and live betting are both dynamic, fast-moving pastimes and are well matched. Esports betting fans like to be able to watch their favourite sports and bet at the same time, ideally with access to fast live streaming of the same events. Unfortunately, Nitrogen Sports falls short in this department.
We were not able to find any live betting esports markets when we checked out the site. We understand that Nitrogen Sports do offer live betting, but that these markets are relatively rare, and you will have to search them out as there is no dedicated in-play esports section.
The other aspect of live betting that many esports betting fans regard as essential is live streaming. Again, this is an area in which Nitrogen Sports could do better. There is no access to any live streaming feature for esports fans, which will limit this site's appeal.
A Mobile-Friendly Esports Betting Site
The rise in the popularity of mobile betting has come at the same time as the growth of esports, and with many esports fans following their favourite tournaments using their mobile devices, it has been essential for betting companies to create a good mobile-friendly product.
As a cutting-edge sports betting site, Nitrogen Sports have not taken the older approach of producing specific betting apps for mobile users. They have focused on producing a site that works well with all mobile devices, through mobile browsers. We found that the site runs smoothly and effectively on most mobile gadgets and gives mobile users access to all the Nitrogen Sports features.
Licensing Concerns at Nitrogen Sports
Whenever an esports betting fan is looking at a new betting site, they will inevitably consider the reputation of a site, which is often based on the licensing and certificates it holds.
Unfortunately, when it comes to licensing credentials, Nitrogen Sports doesn't do much to reassure potential customers. It is fair to say that it can be difficult to license a cryptocurrency site and some jurisdictions have not caught up with this new form of payments, but nevertheless, the fact that Nitrogen Sports are licensed in Costa Rica, one of the least reputable gambling regulators, will be a concern to many potential customers.
The site does offer the ability for players to self-exclude if they feel their gambling is out of control, and there is also an option to limit exposure to promotions. But although these features are positive, players would feel more reassured if the site were able to display a certificate from a third-party auditor or a license from a top-rated regulator such as the UKGC.
A Bitcoin-Focused Payment System
Nitrogen Sports Payment Options in Detail
Accepts Credit/Debit Cards:
Accepts Popular eWallets:
Min. Deposit:

0.0001 BTC

0.0001 BTC
Payment Methods:

Bitcoin

Bitcoin
One of the many technological innovations that are shaping our world is the development of cryptocurrencies. These are not new, and it is not new for a sports betting site to offer some cryptocurrency options among their usual list of credit cards and e-wallet payment selections.
What is unusual about Nitrogen Sports is that they offer only one cryptocurrency: Bitcoin for all deposits and withdrawals. That means you will have to set up a Bitcoin wallet, if you don't already have one, then link it to the Nitrogen Sports site before you can make deposits or withdrawals.
The good news about using Bitcoin is that deposits are almost instantaneous. As soon as you have deposited funds, you will be able to bet. Withdrawals take slightly longer. To withdraw your Bitcoin, you will have to ensure that you have the necessary number of confirmations, according to the size of your deposits. But overall, the speed of the withdrawal process is still faster than you will find with regular sportsbooks.
Although some esports betting fans might prefer a wider range of cryptocurrencies to bet with, if you are comfortable using Bitcoin, Nitrogen Sports offer a good payment system.
Could Do Better with Bonuses
Sports betting fans are used to being offered a variety of promotions and deals to persuade them to sign up with a site. One of the most popular forms of promotion is the welcome bonus, which generally consists of a deposit match bonus, matching your first deposit with a site.
Unfortunately, Nitrogen Sports are a rare exception to the rule. There are no welcome bonuses available for signing up to the Nitrogen Sports site, in fact, we couldn't find any bonuses available at all. This is disappointing, and something that the operator of the site should reconsider as welcome bonuses are a popular attraction for many sports punters.
An Easy to Use Platform
When using a traditional sports betting site, esports betting fans sometimes have to search for the esports betting options, which are hidden among the normal list of sports betting markets.
The esports options on the Nitrogen Sports site are well situated, towards the top of the list of sports markets on the left-hand side of the page. There is a list of esports tournaments and matches, and you can also click on the Starting Soon option that brings up markets on imminent events.
Overall, the layout is sparse, with none of the features you find with many sports betting companies, although there are links to the Rules, News and Responsible Gambling sections at the bottom of the home page. The style won't be for everyone, but it is a clear layout that makes it easy to find what you are looking for and will be appreciated by many esports betting fans.
Limited Customer Support Options
Customer service is often overlooked, but it is an essential part of any sports betting site's product. If something goes wrong while you're betting, or if you have a query, it is reassuring to know that a site will make it easy for you to get in touch with them to quickly and effectively.
Unfortunately, Nitrogen Sports offer only limited assurance. There is no Live Chat option, which is disappointing for a site that is one of the more advanced betting platforms around. There is also no phone option for customers to contact customer support. They do offer an email contact, and there is a message system, with a 24-hour turnaround time for queries, but there is no FAQ section, and overall, we feel there is room for improvement in the way that Nitrogen Sports look after their customers.
FAQ
What payment methods does Nitrogen Sports offer?

Only one! Nitrogen Sports is a Bitcoin-only site.

Is the site mobile compatible?

Yes. You can access the site through your mobile browser.

Is there any live betting?

Yes, although live betting on esports markets is limited.
An Innovative Bitcoin Site with Some Esports Attraction
Even if you are not a cryptocurrency enthusiast, you can't have failed to notice the rise of cryptocurrencies in recent years, and there is a strong possibility that this form of the banking system could become dominant over the next few decades.
So, there is a lot to be said for a cryptocurrency betting site, and Nitrogen Sports provides fast and effective payments and a clear, mobile-friendly platform that is easy to use. Unlike a lot of sports betting sites, they also have good coverage of esports, although their market depth could be improved. Some users may also be concerned about the Costa Rica licence and the limited customer support options. But, overall, this is a mid-range quality esports betting option, that will particularly appeal to those who want to bet on their favourite esports using Bitcoin.
NOT SURE WHICH ESPORTS BETTING SITE IS RIGHT FOR YOU?