After reviewing this bookie, our specialists have determined that it does not meet our ranking criteria.
Please review below some of our recommended choices
BEST ESPORTS BETTING WEBSITES FOR 2023
In the subsequent years, esports have had a profound rise in popularity, and famous brands have started to up their game. Royal Panda being one of the foremost leaders in the bookie scene, has also started to introduce a lot of esports markets to its online platform. Tournaments, available sports, bonuses, and so much more await the market-hungry punter, let's see what Royal Panda has to offer today.
Royal Panda & eSports Betting
Royal Panda Details
Min. Deposit: $10
Odds: 80%
Licenses: Malta, UKGC
Many matches & games
Loyalty Program
24/7 Support
No mobile app
No bitcoin bets
Rating
eSports Betting

Bonus Conditions

Game Variety

User Interface

Odds Margins

Help & Support
Overall Rating:
E-Sports Games
Payment Methods
The Importance of Registering an Account
While other esports betting venues could provide an almost full functionality of the website's features, here it is not so. If you wish to even browse through the list of available markets, you will need to register a free account. First of all, you will need to make sure that you're residing in the right country. That's right – if you're not present in the list of approved countries, you won't be even able to open the registration process page. Bear in mind that you won't be able to even browse any sports sections without creating an account, so if you would like to find out more about Royal Panda, go ahead and make one – it's free.

Licensing and Certification or Royal Panda
As expected from a top-end brand, Royal Panda is properly accredited. This sportsbook possesses licenses by both the Malta Gaming Authority, as well as by the United Kingdom Gaming Commission; and it is also regulated by them. An interesting fact here is that the MGA provides individual licenses for all the software developing companies that are featured on the platform.
Live Streaming of Events
This is a bit of a special case here because the live feature is semi-available. What this means, is that any regular sports won't have an actual live feed of the event of your choice. Besides a symbolic representation of the ongoing event's scorecard on the top right corner, you won't be able to follow the sport in real time. You will be able to view a live stream of all 3D sports, such as football, hockey, etc.; however, the balance in your account must not be zero. While there aren't live streams of regular sports, Royal Panda has assured us that they are constantly working on improving their platform.
Custom Interface Functionality
It is very easy to like the Royal Panda sportsbook, mainly because of an interesting, sleek and functional interface design. Above the market list, you will find three types of dashboard buttons the last of which will enable a "multi-view" window at the centre of the page, where through the use of a drag and drop functionality you will be able to pin your chosen markets.
Royal Panda Esports Mobile
The sports markets in Royal Panda are available for all mobile users. Sadly, we've found no clues about the presence of a regular or esports betting app; however, the website is fully optimized for mobile use. Portable devices that operate on Windows, Android, or iOS will be more than sufficient to completely utilize the features and options of the Royal Panda esports betting platform.
The Sports Markets You Can Expect Here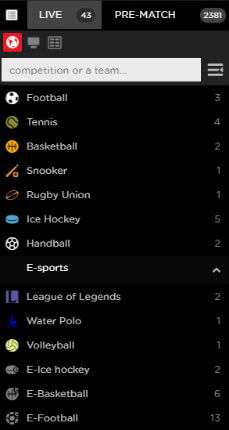 The market list is divided into two sections – live, and pre-match. Having more than 40 pre-match sports, Royal Panda offers markets such as Football, Tennis, Basketball, Cricket, Boxing, Snooker, Rugby Union, Rugby League, Formula 1, Golf, Ice Hockey, American Football, Alpine Skiing, Aussie Rules, Baseball, Badminton, Biathlon, Chess, and many others.
Esports Markets Galore
Getting in with the times, Royal Panda has also incorporated a wide variety of esports; in fact, the most popular computer and console games that are played competitively online. Among sportsbooks such as 888 eSports and bet365 eSports, here you will also discover names such as:
Hearthstone
CS:GO
Dota 2
HotS
LoL
Overwatch
StarCraft
The markets available on those game titles are featured in a variety of tournaments. Currently, the game with the most markets is League of Legends with a number of 87.
The strongest computer games market section of Royal Panda contains what are known as esports. While being divided into several sports sectors, it is generally perceived as being split in two – competitive computer esports, and 3D Sports. The difference between those two is that with the regular 3D markets you have regularly played computer-generated sports, while in the esports gaming section, are all competition gaming titles.
The Esports Tournaments are Big
Currently, the most played video games are of the MOBA genre, also known as a "Multiplayer Online Battle Arena". The largest organizer of competitions and championships all around the world is known as ESL (Electronic Sports League) and if focuses on the facilitation and promotion of different format competitions, such as one of one and team battles. The region scale at which ESL operates is local, national, and worldwide!
Title-Specific Tournaments
While ESL can hold worldwide competitions for various gaming events, the software developers of those titles have their own official take on the matter. For example, the official tournament for Heroes of the Storm is called the HGC (Heroes Global Championship) and it is held by the game's software developing company – Blizzard Entertainment. Punters will be happy to know, that Royal Panda esports betting offers all types of markets, from ESL to HGC leagues.
Customer Support
You can always send an e-mail or call the provided telephone in the help section, but if you wish immediate assistance and you have access to a computer or a mobile device, you can easily open up a live chat window. The client support staff is incredibly competent and courteous; you can be sure that they will easily find the cause for any issues you might be experiencing with the sportsbook. If you have a detailed question that requires a more complex answer, the customer service representatives will send you a detailed e-mail a bit later.
Bet Slip Details
The bet slip for all esports is pretty much the same as with any other markets offered by Royal Panda. It won't appear on the right side of the screen until you choose to make at least one bet. Of course, you can go with single as well as with multiple bets, which will be displayed on the right along with fields where you can fill in the amount you would like to wager. Any predicted wins will be automatically calculated below, for you to gain a better understanding of any potential winnings.
Formats and Views
Royal Panda offers its customers the option to change the way markets are displayed, along with other features of the website. A punter can change the website view between Classic, Modern, and Combo. Right next to that same drop-down box, is the one that allows the changing of the bet formats. Compared to many other sportsbooks, Royal Panda's markets can be displayed in Decimal, Fractional, American, HongKong, Malay and Indo.
Allowed Countries
While in some cases a list would be provided to show which countries are restricted from betting in this sportsbook, here things are a bit different. The countries allowed to register in the Royal Panda website are UK, Germany, Sweden, India, Canada, Ireland, Finland, Austria, Monaco, Netherlands, New Zealand, Norway, Switzerland, Malta, Iceland, Brazil, South Africa, Japan, Chile, Isle of Man, Luxembourg, Peru, Aruba, Bonaire, Sint Eustatius and Saba, Curacao, and the Dutch part of Sint Maarten. Players from any other countries are prohibited from creating an account and playing altogether.
Banking Options – Withdrawing and Depositing Money
Royal Panda Payment Options in Detail
Accepts Credit/Debit Cards:
Accepts Popular eWallets:
Min. Deposit:

$10

$10
Payment Methods:

Visa, MasterCard, Skrill, NETELLER, PayPal, paysafecard, eWire, AstroPay, Ukash

Visa, MasterCard, Skrill, NETELLER, PayPal, paysafecard, eWire, AstroPay, Ukash
Royal Panda offers a multitude of both deposit and withdrawal options. Starting off with deposits, this sportsbook works with bank transfers, vouchers, credit/debit cards, and e-wallets. Some of those brands include Visa, AstroPay card, Neteller, eWire, Ukash, Skrill and many others. The minimum amount that can be deposited through any method, is €/$/£10. There are no processing fees, and with the exclusion of a direct bank transfer (which would take up to 5 days), all deposits are credited to your account instantly.
Withdrawal of any winnings is available only through 4 methods – Bank Transfer, Skrill, Neteller, and Credit/Debit cards. There are no processing costs here as well, and if you would request an e-wallet transaction, it will be instant. Bank and card transaction times can take from 1 to 5 days. Prior to sending any winnings to a player, Royal Panda reserves its right to initiate verification procedures to confirm a player's identity.
Royal Panda Esports Betting Bonuses
What qualified as a welcome sports bonus here, is also called the $20 "kick-off" free bet. Upon completing your free registration at Royal Panda and making your first deposit, you will be eligible to make your free $20 bet. Bear in mind, that the placing any initial bets needs to happen on a sport or esport event with odd 2.0 or more – the exact same conditions apply to the placement of the free bet itself. The bonus bet isn't viable for splitting in any way and cannot be a part of any accumulator bets.
An important aspect of the free bet terms and conditions is the fact that any free bet does not possess actual monetary value. If a punter wins the bet, only then any winnings resulting from it would be credited to their account. If a player resides in the country of Germany, there will be a 5% tax on the amount bet on any type of sports or esports market. Last but not least, a player is eligible for a free bet promotion only once after making a registration.
Seasonal Promotions
While there aren't any other current sportsbook bonuses and promotions, Royal Panda is known to release seasonal bonuses. Usually involving football as a sport, these promotions are usually based on international or global tournaments. Depending on the event, those promotions can have a very short lifespan, so it is definitely worth it to check out the promotional section of the Royal Panda sportsbook on a regular basis.
Advantages and Drawbacks
The Royal Panda esports betting section is rich with markets and sports. The clean design of the website along with an intuitive user interface gives punters the feeling of familiarity when browsing through the website itself. A multitude of banking options, customizable format display options, and esports live streams are among the many other benefits that would accompany eager punters.
While the Royal Panda sports betting platform might have its few drawbacks, those aren't so experience-crippling that would make a person go away. The first, is the lack of events live streaming. While Royal Panda is looking forward to changing that, perhaps the more disappointing con is the lack of enough promotions for the sportsbook itself, especially within the esports sections, which is kind of surprising given the fact that esport markets have gained quite the popularity over the years.
Sports Betting Simulation Mode
With the presence of a 3D sports market section, it is only logical to expect a "free simulation" mode where beginner punters can try and experience the way bets are made, and how winnings are earned. Currently, Royal Panda does not offer a simulation mode, however, Royal Panda is constantly looking in to introduce new features to its platform, and should there is enough public interest, the sportsbook might make a change.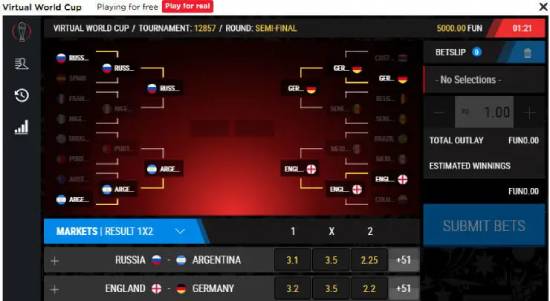 In Conclusion
Royal Panda is one of the most renowned brands online for sports betting. Surely, the amount of markets isn't something that is increasing rapidly on a daily basis, but this is due to the fact that the staff want to provide stable action to their players, which is something most bookies out there do not do. The Royal Panda electronic section is definitely.
NOT SURE WHICH ESPORTS BETTING SITE IS RIGHT FOR YOU?