After reviewing this bookie, our specialists have determined that it does not meet our ranking criteria.
Please review below some of our recommended choices
BEST ESPORTS BETTING WEBSITES FOR 2023
While the trademark "Sky" is owned by the Sky Plc group of companies, Skybet Esports doesn't seem to be associated in any other way with the famous telecommunications company, besides by licensed use of their trademarked name.
Originally operated and owned by Bonne Terre Limited, the Skybet Esports betting platform isn't only renowned for offering a multitude of markets and promotions, but also for its wide coverage of Esports tournaments.
Skybet Details
Min. Deposit: $10
Odds: 45%
Licenses: United Kingdom
Live betting
24/7 support
Live chat
Mobile app
Rating
eSports Betting

Bonus Conditions

Game Variety

User Interface

Odds Margins

Help & Support
Overall Rating:
E-Sports Games
Payment Methods
Market Opportunities and Tournaments by Skybet
The Skybet sportsbook offers more than 50 sports sections, each populated with a variety of markets. Punters can choose between Badminton, Baseball, Basketball, Formula 1, Hockey, Netball, Tennis and many other sports to cast their wagers on, but in the "top sports" section of the website, there are three distinct sections which offer the largest number of betting opportunities – Football, Horse Racing, and Virtual Sports.
Make sure you don't miss the difference between Virtual Sports and Esports; as though they might sound similar, they are not. While virtual sports present computer-generated events in a 3D environment, Esports markets cover computer games that have made their own competitive niche over the past decade. Today, gaming titles such as CS:GO, League of Legends, Dota 2, Starcraft 2, and a few others dominate the sportsbook scene worldwide.
Here are some of the tournaments that are covered by Skybet Esports betting:
Organized by the creators of the Heroes of the Storm – Blizzard, the HGC as it is also known as the largest competitive event that features four regions (North America, Europe, Korea, and China). Every continent hosts the competition between 8 teams, who fight for a place in the final stages of the event. Naturally, Skybet Esports betting covers every stage of the tournament, regardless of where it is held. The prize pool of the HGC is more than $1,000,000 so you can be sure that it will be an event to behold. The bets are based off the "best of 3" game modes.
League of Legends – All Leagues
League of Legends is one of the most popular MOBA style games currently played and viewed in the world. It has its own global championship event called the "World Championship" which takes in several stages across a number of continents. Qualifications for the main event happen after the different tournaments have been concluded. Those are Copa de Brazil, North America League, LJL, Oceanic Pro Australia, and a few others. Every single one of those events has its markets listed in the Skybet Esports betting section.

The prequel to the more modern game has become somewhat of a national sport in South Korea. It is more than fascinating, that a game released in 1998 continues to have its own dedicated tournament today, and continues to be covered by eSports bookies worldwide, including Skybet. The bets punters can make on the provided Starcraft markets, are matchup winner.
Another Blizzard-organized global event, the game of Hearthstone boasts nearly half a million $ in prize pool money, and it features 48 contestant countries that battle for the glory of being number 1. The tournament will be held in three phases, where each phase will see an elimination of half the participants. The markets offered by Skybet here will reflect match wins only.
Starcraft 2 – The GSL vs. the World
South Korea is notorious for having the best Starcraft teams in the world, and it is only natural that this premier-tier tournament is held in a Korean server. While the prize pool for this event isn't that high (around $ 100,000) it is the level of competition that makes this a punter-worthy event. The available markets offered by Skybet Esports betting, are round score, match up winner handicap, map winner.
Counter-Strike: GO-Global Diversity
AMD Red League, ESEA Open Brazil, IEM Shanghai, Bravo Cup, OGA Counter PIT, SL i-League StarSeries, and Stream.me CIS Challenger League are the tournaments which will host all CS:GO official challenges all over the globe. The available bets for punters in the CS:GO markets, are Round Score, over/under, match up, map winner, and pistol round winner.
Customer Service – Help Section
The only function that resembles some kind of a customer support, is a" leave us a feedback" element. In order to gain full access to the client assistance feature, is to register an account. After a user has signed up, they will be able to access the help section of the website, which is filled with a lot of information regarding Banking, Account Troubleshooting, Market and Bet details, and much more.
Should you fail to find what you're looking for in the FAQ portion of the help page, you can contact Skybet via email, live chat, or phone number.
Allowed Countries
As a UK-oriented sportsbook, Skybet caters to punters residing only in the United Kingdom, Ireland, and Gibraltar. Those appear to be the only supported countries by the sportsbook, and if a bettor would like to do so from another country, the only other options which are available are Italy and Germany. It is worthy to mention, that there is a separate website for each of those countries, respectively Skybet Italia and Skybet Deutschland.
The Skybet Esports Betting App Is Real
Given the fact that Skybet is a very popular brand, it is only fitting that it will have its own app that is featured in Google's Play store, but that's not all. iPhone users will also be happy to find out that an iOS version is also available for download from iTunes, so they won't have to worry about anything. No matter which operating system it utilizes, the application has absolutely all features you would find on the browser-based platform, so in the end which way you would decide to place your bets on would be a matter of personal choice.
Instant Play Is Also Available
If you don't like to use up any storage space on your storage device, you won't have to install anything. Skybet Esports betting boasts an amazingly optimized platform, which means that the website version on your smartphone or tablet will feel as native as the computer visual outlook, due to proper visual scaling. If you're a punter "on the go", you will definitely appreciate the Skybet Esports betting mobile.
The Bet Slip
Simple in design yet high in functionality, Skybet's bet slip gives you full information on your ongoing bets and potential winnings. If you don't have any pending bets, the slip will display three button elements, designated as "go to in-play bets", "Build an Accumulator", and "Next Race". While the first and third feature is self-explanatory, the interesting way is how an accumulator bet is built – once you click on it, a number of markets will be displayed in the middle of the screen for your selection.
Additive pro's:
Depositing and withdrawing fund is available through the app
The eSports section can be added to favorites making browsing even more carefree endeavor
Bets can be placed from the getgo and they take only several taps
Both the desktop and app use the same funds from your account, i.e. a share wallet never mind the device you opt for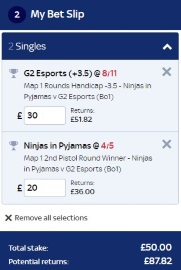 Wager Types
Skybet shines among other sportsbooks, by offering an outstanding amount bet types, which aren't usually present in other bookies. Naturally, the bet types depend on the type of market offered, but the standard available wager types are single, multiple, accumulator, treble (involving three selections from 3 different events), Yankee, Lucky 31, Heinz, Permutation, and a whole lot of others.
Available Formats
By default, the odd formats on the website are fractional, but fans will have a choice to change it to decimal. While there aren't exactly any other options, this is explained due to the availability of Skybet's services to only a few countries. Should you like to change your bet format to decimal, you will need to navigate to the settings options of your account's profile. The new changes will be implemented after you've re-logged into your account.
The Skybet Esports Betting Bonus Program
The specific bonuses offered by Skybet seem to reflect the markets offered by this bookie. Bear in mind that while there isn't a standardly set "welcome bonus scheme", this sports betting platform offers a number of interesting promotions, which seem to change based on the day/time/week/month they are released on. Here are the most notable bonuses offered by the Skybet sportsbook.
If you decide to opt-in for a free bet bonus, all you have to do is make a wager of £25 before 23:59 on Sunday. Bear in mind that any cashed-out bets are excluded, and make sure that the odds you're placing your wager on are 1/1 or greater. You can spread out your qualifying bet any way you see fit – £1 x 25 times, £5 times, etc. Free bets expire after a 7day period, and all other standard bonus terms and conditions apply.

Skybet is big on horse racing events, and this is why it offers multiple daily promotions connected with this particular sports market. The Matchbook Best Value Exchange Handicap bonus allows punters to get up to £20 money back as a guarantee, should their horse finishes second or third. The best odds are guaranteed on all UK and Irish races. Another horse racing promotion allows the placing on bets on 4 places, with the chance of picking a winner for 7 consecutive races, and a prize pool of £100,000.

Rather than offering a straight-cash bonus, Skybet focuses on enhancing already existing bet types – such is the case with the Enhanced Daily Accumulator. Offering better-modified odds at regular intervals, the EDA is not the only football-related promotion offered by the Skybet sports book. The fantasy team league allows you to construct your own football team and participate in the chance of winning £50,000.
Skybet Esports Betting Live Streams
Very sadly, we weren't able to find any information regarding the live streaming of regular, Esports and virtual markets on the computer version of the website. In regard to Esports, it isn't a total loss as almost every event, tournament or competition is streamed for free, usually by the company that usually organizes it. So far, the only information about any live streaming functionality is if you log in through your mobile device.
Skybet promises its mobile users that they can follow absolutely all football and tennis gaming events via their mobile website for free, which would imply that there might be charges for any other sports. Nonetheless, should punters be interested in following additional sports via live stream, the only way to get additional information on how to do that, is to navigate to the Bet & Watch section.
Skybet Esports Betting Banking Options
Skybet Payment Options in Detail
Accepts Credit/Debit Cards:
Accepts Popular eWallets:
Min. Deposit:

$10

$10
Payment Methods:

Visa, MasterCard, Skrill, NETELLER, PayPal, Bank Transfer

Visa, MasterCard, Skrill, NETELLER, PayPal, Bank Transfer
With depositing and withdrawing options, Skybet's features are a bit tight – in the sense that there isn't a lot to go around.
Given the fact the Skybet Esports betting is quite big on client security, they wish to limit their deposit options only to the most popular credit/debit cards brands such as Visa and Mastercard, as well as the most famous online transfer platforms such as PayPal and others. While Skybet will never charge its customers for any deposits, the sportsbook advises its customers to always check with their bank service providers.
Regarding withdrawal procedures, Skybet states that only the method that was used for initial deposit can be used. This is done for security purposes, as well for maximum convenience for the client and sportsbook. Withdrawal requests are processed until the end of one business day, while the transfer process itself can take from 2 – 5 days depending on the method utilized.
Advantages and Disadvantages
e don't count country restriction as a disadvantage, as the sportsbook is made to cater to the needs of a specific demographic. On the other hand, the live stream functionality of Skybet esport betting section could use an upgrade, and it is definitely something that the brand should be working on. The benefits definitely outnumber the drawbacks thought – a wonderful selection of promotions and markets, as well as some of the best odds available in the industry.
In Conclusion
Given the narrow player base, this sportsbook is focused on, it is only natural for Skybet to develop its platform further into additional countries with time. It's visible dedication to esport betting markets as well as for the classic sports, reflect in the quality of the odds they offer. While there are some minor "kinks" to work out, Skybet provides its punters with what they need – quality fun and constant action.
NOT SURE WHICH ESPORTS BETTING SITE IS RIGHT FOR YOU?