After reviewing this bookie, our specialists have determined that it does not meet our ranking criteria.
Please review below some of our recommended choices
BEST ESPORTS BETTING WEBSITES FOR 2023
Unique in its own right, Loot.bet E-Sports betting is perhaps unparalleled in its presentation of markets concerning electronic sports. You won't find any regular sports here; if you're the type of punter that is looking for pure E-Sports, then this bookie will definitely exceed any expectations you might have.
In this review you will learn not only about the platform itself, but also a unique way of topping up your account - dive in, and see how Loot.bet got its name!
Loot Bet & eSports Betting
Loot Bet Details
Min. Deposit: $10
Odds: 49%
Licenses: Cyprus
Live betting
24/7 support
Live chat
Mobile app
Rating
eSports Betting

Bonus Conditions

Game Variety

User Interface

Odds Margins

Help & Support
Overall Rating:
E-Sports Games
Payment Methods
Opening up an Account with Loot.bet
Out of all the online bookie websites, like GG.Bet or Spin Palace, that we've ever reviewed, this one is probably the easiest to register in. Simply input your email address, choose your preferred password, tick off the "I understand the T&C's and I am over 18 years old" box, and you're good to go. No putting down an address, birthdate – there isn't a selection for preferred currency. Once you've done these three simple actions, you will be ready to make a deposit and start wagering on your favourite E-Sports markets.
Loot.bet E-Sports Has a Large Market Roster
We cannot ignore the fact that Loot.bet E-Sports currently offers 25 gaming titles, each with their respective markets. Naturally, not all of the games have active odds, but usually, this is because some titles are featured more regularly on different championships, while others aren't.
Here are the electronic sports titles you will find at Loot.bet: CS: GO, Dota 2, League of Legends, Overwatch, Starcraft, Hearthstone, Heroes of the Storm, Call of Duty, Quake, FIFA, Halo, Dragon Ball Z, World of Warcraft, King of Glory, NBA2K, PUBG, Gears of War, Rainbow 6, Rocket League, Smite, Street Fighter V, Vainglory, Warcraft III, World of Tanks and Crossfire.
The Games with Most Markets and Championships
The most active gaming titles you will find here, are the "golden three" – Counter-Strike: Global Offensive, Dota 2, and League of Legends. Live matches are displayed on the very top of the market list, with upcoming markets below them.
The filter buttons will allow you to view all betting opportunities by matches-only, by tournaments, or by "outrights". Almost every gaming title offers more than 40 different matches, although not all of them might be live at the moment.
LoL Betting Opportunities
Moving onto the most played game in the world, League of Legends is by no means stepping down from the number of possibilities when it comes to markets. Currently, the only event being represented in Loot.bet E-Sports is the largest LoL event on the globe: the World Championship 2018. All upcoming matches have been laid out, and their odds pre-set. In addition to the win/ lose condition, players can place their stakes on the team that will: kill the dragon, kill baron, makes first kill, destroys their first inhibitor or destroys their first tower.
Dota 2 – More is Coming Up
Although quite famous in its own right, Dota 2's markets seem a lot less than those provided by LoL and CS: GO. The two events that are being covered by Loot.bet are the ESL One 2018 in Hamburg, and the one called Reshuffle Madness. The available odds here, are 1st map winner, 2nd map winner, map handicaps, total maps, correct score, kill draw no bet, and of course winner. Until new events or championships have been announced, those will be the available E-Sports markets for punters.
CS: GO offers a lot of Events and Odds
Currently, ESL One 2018 New York is being hailed as the primary tournament of the CS: GO markets. ESEA Premier Division in North America is being presented next, followed by Cyber Gamer Premier League, Shuffle Group Stage, ESL Brazil Premier League, and ESL Pro League Season VIII. Indeed, at first glance, every market seems to have only win/ lose odds, but this isn't so – in front of each one, there is an expansion button that reveals the full plethora of odds offered by your selected market.
Odds in Counter-Strike: GO, are mainly determined by the venue in which the championship is being held at. The ESL One offers odds such as map handicap, 1×2, map round 1 winner, map first-half winner, and others. Other CS: GO odds include round handicap, total rounds, correct score, as well as others that include overtime. Currently, the Loot.bet E-Sports betting platform doesn't offer any outright odds in CS: GO.
Loot.bet E-Sports Live Streaming is Functional
Watch your favourite match unfold right before your eyes, without having to visit other websites. Loot.bet E-Sports provides its punters with proper live video streaming action, courtesy of the service provider Twitch.
Sadly, the Loot.bet E-Sports platform doesn't support multi-view, so if you're streaming one event and you wish to do that with another, it will have to be in a separate tab of your browser.
Regular Sports and Other Games
Loot.bet E-Sports doesn't offer any regular sports markets. That's right, not even football. By the nature of this bookie, one would determine that they are dedicated to this specific type of the betting industry, however, they have an additional gaming section which throws a bit of confusion to the mix – slots.
And here is the shocker – there are more than 200 slot titles in s sportsbook about Video Game Events. While oddly peculiar, it isn't something bizarre; perhaps, Loot.bet has put those slots there for people who are waiting for their next E-Sports match to begin.
The Loot.bet E-Sports Bonus Program Was Cancelled
You read that right – currently, there aren't any bonuses. This could be considered as quite the drawback, especially for players that consider themselves of being "bonus hunters". While this is indeed somewhat confusing, it has to do with the fact that Loot.bet are currently working on an entirely new bonus program, which we were informed will going to be introduced in the future. For now, there aren't any extras you can benefit from – but you won't have to worry about any wagering requirements as well.
Betting Slip of Loot.bet E-Sports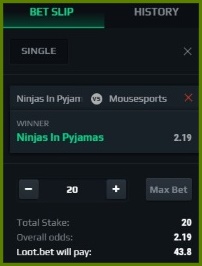 The bet slip here is pretty much in its standard positioning, with no particular "bells and whistles". Once you make an odd selection, two tabs will appear within the betting slip window – "single" and "combo" with an ever-known calculation of a potentially winning sum below (based on your selected stake, of course).
The bet history tab will provide you with information on all, pending, and resolved bets. While not overly special, Loot.bet's slip looks functional and easy to use.
Loot.bet E-Sports Application
Another miss by this E-Sportsbook, a native application for mobile devices is something that Loot.bet do not have. Upon inquiries of any future plans in developing an application for iOS and Android devices, we were informed that although there aren't any discussions on the matter right now, the company is looking into it as many customers have made inquiries on the matter.
We were informed that the current best way to have a Loot.bet E-Sports mobile experience is by logging to the optimized website of the bookie by using the browsers on our portable devices.
Multi-Currency Friendly
Loot.bet E-Sports supports not only one, but two cryptocurrencies: Bitcoin and Ehterium. While indeed quite surprising, what is even more baffling that there are only other three other currencies available for a punter to operate with – the Euro, the USD, and the RUB.
Each of these currencies has its own balance within your profile section, so you will be able to operate with them, should you have deposited in the right places.
Withdrawing and Depositing Money in Your Account
Loot Bet Payment Options in Detail
Accepts Credit/Debit Cards:
Accepts Popular eWallets:
Min. Deposit:

$10

$10
Payment Methods:

Visa, MasterCard, Skrill, NETELLER, Bitcoin, PayPal, Moneta.ru, QIWI, Yandex Money

Visa, MasterCard, Skrill, NETELLER, Bitcoin, PayPal, Moneta.ru, QIWI, Yandex Money
The banking methods are determined by the type of currency you would like to use in the website. Excluding cryptocurrency, the most common methods used for the deposit of finances, are Visa, MasterCard, Skrill, Neteller, and SkinPay. The last method, in particular, gives punters the chance to use the skins they've earned by playing their gaming titles and convert them into sportsbook cash! Bear in mind that if you decide to fund your account in this way, skin conversion is irreversible.
Getting your winnings usually happens through the methods described above, without SkinPay, of course. The interesting fact here is that the Russian rouble has a few more methods when it comes to withdrawal. Yandex Money, Moneta.ru, QIWI, and Alfa Bank. Your withdrawals will be subjected to transfer periods, and may or may not be taxed depending on your financial service provider.
Surprisingly Few Countries are Restricted from Playing Here
While not mentioning specific names in the first segment of their "restricted jurisdictions", Loot.bet inform website users that countries that aren't allowed by their law to participate in any online gambling activities will not be able to log into the website. The specific countries that are described with their names, are the USA, France and its territories, Netherlands and its territories, Belize, Belarus, the United Kingdom of Great Britain and Northern Ireland, and Cyprus. Every other jurisdiction is courteously welcome to participate in some punter action within Loot.bet.
Customer Support
You can contact Loot.bet's customer support agents right away through the live chat bubble located on the bottom right part of every page. The staff seems to be very knowledgeable about the inner workings of the Loot.bet E-Sports betting platform, so no matter how trivial your question might seem, they will be able to provide you with an adequate answer.
Pros and Cons – Summarised
Rarely do we review a sportsbook that is balanced in the terms of drawbacks and benefits, but this is understandable that this is done at a time where the platform is going through a transformation. Starting with the drawbacks, the relatively small amount of available markets is probably the first thing that comes to mind, and this is in comparison to the otherwise large amount of gaming titles provided by Loot.bet E-Sports. There isn't even a small welcome bonus which can be an immediate turn-off for newly signed punters, and a lack of a regular sports section isn't very diverse.
Among the positive sides, we can mention first the odd formats. Loot.bet E-Sports can display the markets in American, Fractional, Decimal, Hong Kong, and Percent formats. The streaming service of all live markets is superior, and the customer support is beyond responsive. The multi-currency method balance here is a fascinating feature and the presence of not one but two cryptocurrencies expands further betting possibilities. Last but not least, is the informational section of the website that gives users a full outlook on how Loot.bet E-Sports operates.
Conclusion – What Awaits Loot.bet
It would seem that although Loot.bet E-Sports is a work in progress, it is safe to assume that they will grow even further. With a newly updated design, it would seem that this sportsbook is going through a significant overhaul, which would explain the numerous missing features which are pretty much standard for anyone else. They do, however, offer an exciting variety of odds, and their free streaming service is something that only a few bookies, like Betspawn, have online. Who knows, if you find the odds you're looking for, you might like it here.
NOT SURE WHICH ESPORTS BETTING SITE IS RIGHT FOR YOU?